Eve hing stops
17th January 1987
Page 6
Page 7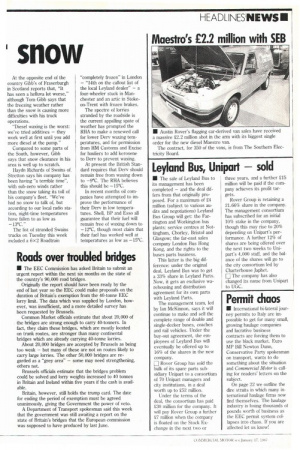 Page 6, 17th January 1987 —
Eve hing stops
Close
• UK hauliers this week have been battling with some of the worst weather on record in an attempt to deliver the nation's goods. Faced with chilling winds, blocked motorways and daytime temperatures staying well below zero, scores of trucks have had to
be abandoned throughout the country as Britain is gripped in the big-freeze.
Among the worst hit areas in the country have been the East Coast, and parts of the Home Counties and Kent, where snow drifts have been making driving treacherous on the M2, M25, M20 and M26.
One South of England haulier hit by the Siberian conditions is TIR specialist Laser Transport of Hythe in Kent, which has been having a "rough time". On Tuesday (13th) Laser's road transport general manager, Nick Charlesworth, described his plight as "not so good".
With heavy snow and stranded vehicles blocking the M20, three of Laser's artic units were turned back by police on the A20 at Lenham and forced to return to base with their cargoes undelivered.
In common with countless other hauliers, Laser has had problems with diesel fuel waxing, despite using additives. At the opposite end of the country Gibb's of Fraserburgh in Scotland reports that, "It has seen a helluva lot worse," although Tom Gibb says that the freezing weather rather than the snow is causing more difficulties with his truck operations.
"Diesel waxing is the worst: we've tried additives — they work well at first until you add more diesel at the pump."
Compared to some parts of the South, however, Gibb says that snow clearance in his area is well up to scratch.
Haydn Richards of Swains of. Stretton says his company has been having "a terrible time", with sub-zero winds rather than the snow taking its toll of his company's fleet. "We've had no snow to talk of, but according to our local radio station, night-time temperatures have fallen to as low as —13°C."
The list of stranded Swains trucks on Tuesday this week included a 6x 2 Roadtrain "completely frozen" in London — "14th on the callout list of the local Leyland dealer" — a four-wheeler stuck in Manchester and an artic in Stokeon-Trent with frozen brakes.
The spectre of lorries stranded by the roadside is the current appalling spate of weather has prompted the RHA to make a renewed call for lower Dery waxing temperatures, and for permission from HM Customs and Excise for hauliers to add kerosene to Dery to prevent waxing.
At present the British Standard requires that Dery should remain free from waxing down to —9°C. The RHA believes this should be —15°C.
In recent months oil companies have attempted to improve the performance of their Dery in low temperatures. Shell, BP and Esso all guarantee that their fuel will remain free of waxing down to —12°C, though most claim that their fuel has worked well at temperatures as low as —15°C.