PRICES
17th January 1987
Page 26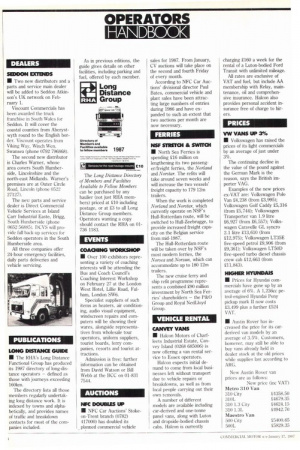 Page 27
Page 26, 17th January 1987 —
PRICES
Close
VW VANS UP 3%
• Volkswagen has raised the prices of its light commercials by an average of just under 3%.
The continuing decline in the value of the pound against the German Mark is the reason, says the British importer VAG.
Examples of the new prices ex-VAT are: Volkswagen Polo Van £4,238 (from £3,995); Volkswagen Golf Caddy £5,316 (from £5,744); Volkswagen Transporter van 1.9 litre £6,927 (from £6,557); Volkswagen Caravelle GL syncro 2.1 litre £13,610 (from £12,975); Volkswagen LT35E five-speed petrol £9,906 (from £9,361); Volkswagen LT5OD five-speed turbo diesel chassis crew cab £12,663 (from £11,843).
H IGHER HYUNDAIS
• Prices for Hyundai commercials have gone up by an average of 6%. A 1,236cc petrol-engined Hyundai Pony pickup mark 11 now costs £3,499 plus a further £524 VAT.
• Austin Rover has increased the price for its carderived van models by an average of 3.5%. Customers, however, may still be able to buy vans already held in dealer stock at the old prices while supplies last according to ARG.
New Austin Rover van prices are as follows: New price (inc VAT) Metro 310 Van 310 City £4358.50 310L £4679.35 310 1.3 City £4624.15 310 I.3L £4942.70 Maestro Van 500 City £5400.65 500L £5829.35 700 City £5938.60 700L £6322.70 700 1.6 City £6246.80 500 City Diesel £6246.80 700 City Diesel £6641.25