PERMITS TELL US
17th January 1987
Page 24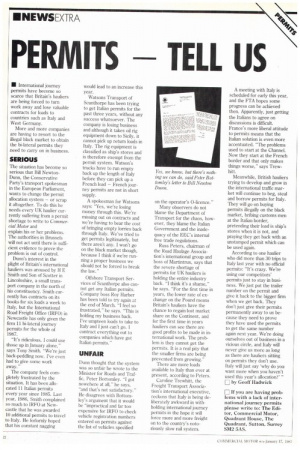 Page 24, 17th January 1987 —
PERMITS TELL US
Close
Keywords :
• International journey permits have become so scarce that Britain's hauliers are being forced to turn work away and lose valuable contracts for loads to countries such as Italy and West Germany.
More and more companies are having to resort to the illegal black market to obtain the bi-lateral permits they .need to carry on in business.
SERIOUS
The situation has become so serious that Bill NewtonDunn, the Conservative Party's transport spokesman in the European Parliament, wants to change the permit allocation system — or scrap it altogether. To do this he needs every UK haulier currently suffering from a permit shortage to write to Commercial Motor and
explain his or her problems. The authorities in Brussels will not act until there is sufficient evidence to prove the problem is out of control.
Dunn's interest in the plight of Britain's international hauliers was aroused by H E Smith and Son of Scotter in Lincolnshire, a small transport company in the north of his constituency. Smith currently has contracts on its books for six loads a week to Italy, but the International Road Freight Office (IRFO) in Newcastle has only given the firm 11 bi-lateral journey permits for the whole of 1987.
"It's ridiculous, I could use those up in January alone," says Tony Smith. "We're just back-peddling now. I've even had to give sonic work away."
The company feels completely frustrated by the situation. It has been allocated 11 Italian permits every year since 1985. Last year, 1986, Smith complained so much to IRFO at Newcastle that he was awarded 10 additional permits to travel to Italy. He forlornly hoped that his constant nagging would lead to an increase this year.
Watsons Transport of Scunthorpe has been trying to get Italian permits for the past three years, without any success whatsoever. The company is losing business and although it takes oil rig equipment down to Sicily, it cannot pick up return loads in Italy. The rig equipment is classified as ship's stores and is therefore exempt from the permit system. Watson's trucks have to run empty back up the length of Italy before they can pick up a French load — French journey permits are not in short supply.
A spokesman for Watsons says: "Yes, we're losing money through this. We're missing out on contracts and we're having to bear the cost of bringing empty lorries back through Italy. We've tried to get permits legitimately, but there aren't any. I won't go on the black market though, because I think if we're running a proper business we should not be forced to break the law."
Offshore Transport Services of Scunthorpe also cannot get any Italian permits. Company boss Roy Harber has been told to try again at the end of March. "I feel so frustrated," he says. "This is holding my business back. I've umpteen loads to take to Italy and I just can't go. I contract everything out to companies which have got Italian permits."
UNFAIR
Dunn thought that the system was so unfair he wrote to the Minister for Roads and Traf fic, Peter Bottomley. got nowehere at all," he says, "and that's not satisfactory." He disagrees with Bottomley's argument that it would be "impractical and far too expensive for IRFO to check vehicle registration numbers entered on permits against the list of vehicles specified on the operator's 0-licence."
Many observers do not blame the Department of Transport for the chaos, however, they blame the Italian Government and the inadequacy of the EEC's internal free trade regulations.
Russ Peters, chairman of the Road Haulage Association's international group and boss of Martintrux, says that the severe shortage of permits for UK hauliers is holding the entire industry back. "I think it's a shame," he says. "For the first time in years, the lower rate of exchange on the Pound means Britain's hauliers have the chance to regain lost market share on the Continent, and for the first time in years hauliers can see there are good profits to be made in international work. The problem is they cannot get the permits. It is a real pity that the smaller firms are being prevented from growing."
There are more loads available to Italy than ever at present, according to Peters.
Caroline Trewhitt, the Freight Transport Association's international executive, reckons that Italy is being deliberately awkward in withholding international journey permits in the hope it will force more and more freight on to the country's notoriously slow rail system. A meeting with Italy is scheduled for early this year, and the FTA hopes some progress can be achieved then. Apparently, just getting the Italians to agree on discussions is difficult. France's more liberal attitude to permits means that the Italian solution is even more accentuated. "The problems used to start at the Channel. Now they start at the French border and that only makes things worse," says Trewhitt.
Meanwhile, British hauliers trying to develop and grow in the international traffic market will continue to beg, steal and borrow permits for Italy. They will go on buying permits illegally on the black market, bribing customs men at the Italian border, pretending their load is ship's stores when it is not, and praying they get back with an unstamped permit which can be used again.
According to one haulier who did more than 30 trips to Italy last year with no official permits: "It's crazy. We're using our competitors' permits just to stay in business. We just put the trailer number on the permit and give it back to the bigger firm when we get back. They don't just give their permits permanently away to us because they need to prove they have used the permits to get the same number again next year. We're doing ourselves out of business in a vicious circle, and Italy will never give us more as long as there are hauliers sitting on permits they don't use. Italy will just say 'why do you want more when you haven't used this year's allocation?' " LI by Geoff Hadwick fl If you are having problems with a lack of international journey permits please write to: The Editor, Commercial Motor, Quadrant House, The Quadrant, Sutton, Surrey SM2 5AS.