• If one competing bus operator can reduce his costs
17th January 1987
Page 21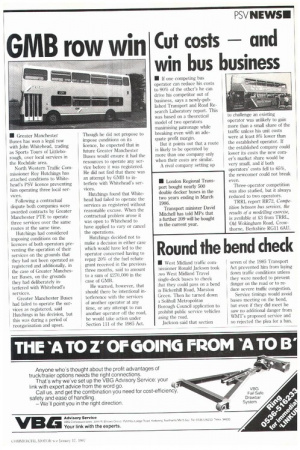 Page 21, 17th January 1987 —
• If one competing bus operator can reduce his costs
Close
to 90% of the other's he can drive his competitor out of business, says a newly-published Transport and Road Research Laboratory report. This was based on a theoretical model of two operators maximising patronage while breaking even with an adequate profit margin.
But it points out that a route is likely to be operated by more than one company only when their costs are similar.
A rival company setting up to challenge an existing operator was unlikely to gain more than a small share of the traffic unless his unit costs were at least 8% lower than the established operator. If the established company could lower its costs the new comer's market share would be very small, and if both operators' costs fell to 65%, the newcomer could not break even.
Three-operator competition was also studied, but it always reduced to two operators.
TRRL report RR72, Competition between bus services, the results of a modelling exercise, is available at £3 from TRRL, Old Wokingham Road, Crowthorne, Berkshire RG11 6A11.