• The most comprehensive single guide yet produced detailing the
17th January 1987
Page 15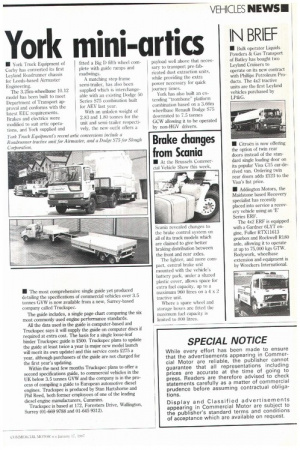 Page 15, 17th January 1987 —
• The most comprehensive single guide yet produced detailing the
Close
specifications of commercial vehicles over 3.5 tonnes GVW is now available from a new, Surrey-based company called Truckspec.
The guide includes, a single page chart comparing the six most commonly used engine performance standards.
All the data used in the guide is computer-based and Truckspec says it will supply the guide on computer discs if required at extra cost. The basis for a single loose-leaf binder Truckspec guide is £500. Truckspec plans to update the guide at least twice a year (a major new model launch will merit its own update) and this service costs £275 a year, although purchasers of the guide are not charged for the first year's updating.
Within the next few months Truckspec plans to offer a second specifications guide, to commercial vehicles in the UK below 3.5 tonnes GVW and the company is in the process of compiling a guide to European automotive diesel engines. Truckspec is produced by Stan Hartshorne and Phil Reed, both former employees of one of the leading diesel engine manufacturers, Cummins.
Truckspec is based at 172, Foresters Drive, Wallington, Surrey (01-669 9788 and 01-645 9312).