Rental giants switch to Duron asbestos-free brake linings
17th January 1987
Page 14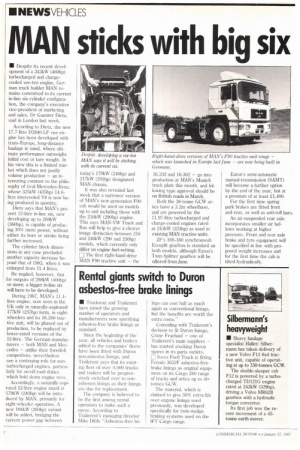 Page 14, 17th January 1987 —
Rental giants switch to Duron asbestos-free brake linings
Close
• fruckrent and Trailerent have joined the growing number of operators and manufacturers now specifying asbestos-free brake linings as standard.
Since the beginning of the year, all vehicles and trailers added to the companies' fleets have been fitted with Duron non-asbestos linings, and Trailerent says that its existing fleet of over 4,000 trucks and trailers will be progressively switched over to nonasbestos linings as their linings are due for replacement.
The company is believed to be the first among rental operators to make such a move. According to Trailerent's managing director Mike Dibb: "Asbestos-free lin
ings can cost half as much again as conventional linings, but the benefits are worth the extra costs."
Coinciding with Trailerent's decision to fit Duron linings, Crane Fruehauf — one of Trailerent's main suppliers — has started stocking Duron spares in its parts outlets.
Iveco Ford Truck is fitting Ferodo 3652F asbestos-free brake linings as original equipment on its Cargo 280 range of trucks and artics up to 10tonnes GCW.
The material, which is claimed to give 50% extra life over organic linings used previously, was .developed specifically for twin-wedge braking systems used on the !FT Cargo range.