Bulk Milk Transport in France
17th January 1947
Page 49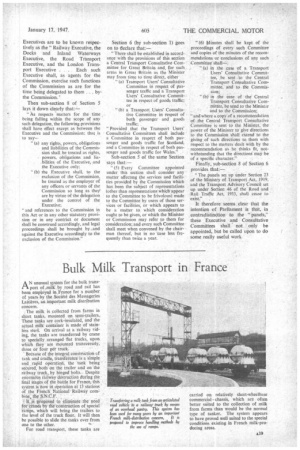 Page 49, 17th January 1947 —
Bulk Milk Transport in France
Close
AN unusual system for the bulk transport of...milk by .road and rail has been employed in,France for a number of years by the Sociotd des Messageries Laitieres, an important milk distribution concern.
The milk is collected from farms in short tanks, mounted on semi-trailers., These tanks are cork-insulated, and the actual milk container is made of stainless steel.. On arrival at a railway siding, the tanks are transferred by crane to 'specially arrangedfiat trucks, upon which they are thOunted transversely, three or four Or 4edause of the integral construction of tank and cradle, transference is a simple and rapid operation, the tank being secured, both on the trailer and on the railway truck, by hinged bolts. Despite enormous railway destruction during the final tages of the battle for France, this syStem is now iii dperation at 13 stations of the French NationalRailway corn bi the S. N •
• It is proposed to eliminate the need for cranes by the construction of special ramps, which will bring the trailers to the level of the truck floor. It will then be possible to slide the tanks over from one to the other.
For road transport, these tanks are carried on relatively short-wheelbase commercial chassis, which are often better suited to the collection of milk from farms than would be the normal type of tanker. The system appears to have proved well suited to the special conditions existing in French milk-producing areas.