Extra Buses Will Not Help
17th January 1947
Page 44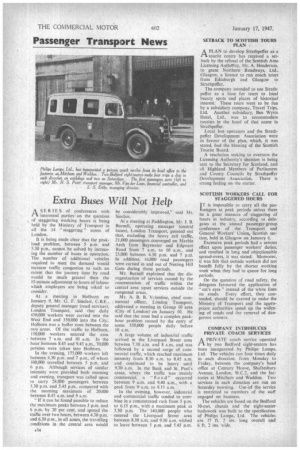 Page 44, 17th January 1947 —
Extra Buses Will Not Help
Close
ASERIES of conferences with interested parties on the question of staggering working hours is being held by the Ministry of Transport in all the 14 " staggering " zones of London.
It is being made clear that the peakload problem, between 5 p.m. and 5.30 p.m., cannot be solved by increasing the number of buses in operation. The number of additional vehicles required to meet the demand would increase traffic congestion to such an extent that the journey time by road would be much greater than the 15-minute adjustment to hours of labour which employers are being asked to consider.
At a meeting in Holborn on January 9, Mr. G. F. Sinclair, C.B.E., deputy general manager (road services), London Transport, said that daily 450,000 workers were carried into the West End and 350,000 into the City; Holborn was a buffer zone between the two areas. Of the traffic to Holborn, 150,000 workers entered the area between 7 a.m. and 10 a.m. In the hour between 8.45 and 9.45 a.m., 70,000 persons were taken into Holborn.
In the evening, 175,000 workers left between 4.30 p.m. and 7 p.m., of whom 100.000 travelled between 5 p.m. and 6 p.m. Although services of similar intensity were provided both morning and evening, transport was called upon to carry 28,000 passengers between 5.30 p.m. and 5.45 p.m., compared with the morning maximum of 20.000 between 8.45 a.m. and 9 a.m.
"If it can be found possible to reduce the maximum peaks between 5 p.m. and 6 p.m. by 20 per cent. and spread the traffic over two hours, between 4.30 p.m. and 6.30 p.m., in all zones, the travelling :onditions in the central area would be considerably improved," said Mr. Sinclair.
At a meeting at Paddington, Mr. J. B. Burnell, operating manager (central buses), London Transport, pointed out that, excluding the heavy rail traffic, 21,000 passengers converged on Marble Arch from Bayswater and Edgware Road from 7 a.m. to 10 a.m,, and 23,000 between 4.30 p.m. and 7 p.m. In addition, 16,000 road passengers were carried in and out of Notting Hill Gate during those periods.
Mr. Burnell explained that the disorganization of services caused by the concentration of traffic within the central area upset services outside the congested areas.
Mr. A. B. B. Vr.lentine, chief commercial officer, London Transport, addressed a meeting in Group 10 area (City of London) on January 10. He said that the zone had a complex peakhour problem caused by the entry of some 350,000 people daily before 10 a.m.
A large volume of industrial traffic arrived in the Liverpool Street area between 7.30 a.m. and 8 a.m. and was followed by a second surge of commercial traffic, which reached maximum intensity from 8.30 a.m. to 8.45 a.m. and continued to be heavy until 9.30 a.m. In the Bank and St. Paul's areas, where the traffic was mainly commercial, a "11 00 d" occurred between 9 a.m. and 9.40 a.m., with a peak from 9-a.m. to 9.15 a.m.
In the evening, however, industrial and commercial traffic tended to combine in a concentrated rush from 5 p.m. to 6.15 p.m., with a maximum peak at 5.30 p.m. The 140,000 people who entered the Liverpool Street area between 8.30 a.m. and 9.30 a.m. wished to leave between 5 p.m. and 5.45 p.m.