Canada as a Customer of Britain
17th January 1947
Page 43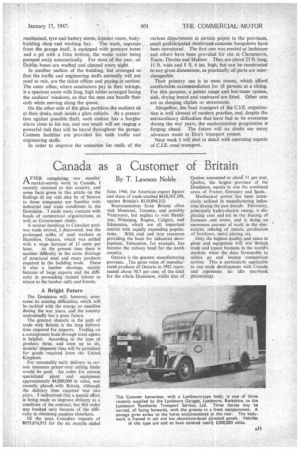 Page 43, 17th January 1947 —
Canada as a Customer of Britain
Close
By T. Lawson Noble
A FIER completing two months' ft market-survey work in Canada, I recently returned to this country, and some facts given in this article on the findings of my visit may be of Interest to those companies not familiar with industrial and trade conditions in the Dominion. I made many contacts with heads of commercial organizations, as well as Government chiefs.
A serious handicap to Canadian postwar trade revival, I discovered, was the prolonged strtke of steel workers at Hamilton, Ontario, which was settled with a wage increase of 13 cents per
hour. At the present time there is another difficulty in the acute shortage of structural steel and many products required in the building trade. There is also a lumber shortage, mainly because of large exports and the difficulty in persuading trained labour to return to the lumber mills and forests.
A Bright Future
The Dominion will, however, overcome its existing difficulties, which will be tackled with the energy so manifest during the war years, and the country undoubtedly has a great future.
The greatest obstacle in the path of trade with Britain is the long delivery time required for imports. Trading en a consignment basis through local agents is helpful. According to the type of product, three, and even up to six, months' shipment time will be permitted for goods required from the United Kingdom.
For reasonably early delivery in certain instances prices-over ceiling limits would be paid. An order for certain specialized plant and equipment approximately $4,000,000 in value, was recently placedwith Britain, although the delivery time required was two years. I understand that a special effort is being made to improve delivery as a condition of the contract, but this order was booked only because of the difficulty in obtaining supplies elsewhere.
Of the total Canadian imports of $879,874,953 for the six months ended
June, 1946, the American export figures and share of trade totalled $618,367,109, against Britain's $110,894,212.
Representatives from Britain often visit Montreal, Toronto, and possibly Vancouver, but neglect to visit Hamilton, Winnipeg, Regina, Calgary, and Edmonton, which are all important centres with rapidly expanding popula tions. With coal and iron resources providing the basis for industrial development, Edmonton, for example, has become the railway head for the north country.
Ontario is the greatest manufacturing province. The gross value of manufactured products of Ontario in 1942 represented about 50.5 per cent, of the total for the whole Dominion, whilst that of Quebec amounted to about 31 per cent. Quebec, the largest province of the Dominion, equals in size the combined areas of France, Germany and Spain.
Mechanical power has been extensively utilized in manufacturing industries during the past decade. Electricity, principally hydro-electric energy, is dis
placing coal and in the heating of furnaces and ovens, and is doing an enormous amount of work in the electrolytic refining of metals, production of fertilizers, metal plating. etc.
Only the highest quality and value in plant and equipment will win Britain trade and repeat business in the world's markets when the days favourable to sellers go and intense competition arrives. This is particularly applicable to our trade development with Canada and represents no idle text-book phraseology.