Obtaining Long Cylinder Life
17th January 1947
Page 31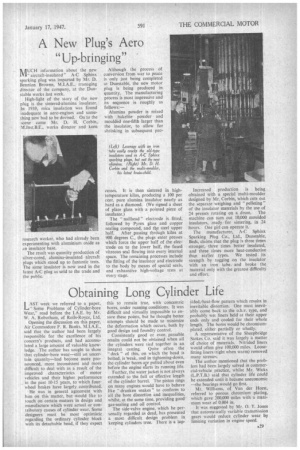 Page 31, 17th January 1947 —
Obtaining Long Cylinder Life
Close
1 AST week we referred to a paper, 1-4" Some Problems of Cylinder-bore Wear." read before the I.A.E. by Mr. W. A. Robotham, of Rolls-Royce, Ltd.
Opening the discussion on this paper, Air Commodore F. R. Banks, M.I.A.E., said that the author had been largely responsible for the excellence of his concern's products, and had accumulated a large amount of valuable knowledge. The author has sought to show that cylinder-bore wear—still an uncertain quantity—had become more pronounced, more inconsistent and more difficult to deal with as a result of the improved characteristics of motor vehicles and their higher performance in the past 10-15 years, to which fourwheel brakes have largely contributed.
He was in general agreement with him on this matter, but would like to touch on certain matters in design and manufacture which were actual or contributory causes of cylinder wear. Some designers must be most optimistic regarding the ordinary cylinder block with its detachable head, if they expect this to remain true, with concentric bores, under running conditions. It was difficult and virtually impossible to ensure these points, but he thought better attempts shOuld be made to minimize the deformation which occurs, both by good design and foundry control.
Consistently good or even passable results could not be obtained when all the cylinders were tied together in an integral casting. Quite often the " deck " of this, on which the head is bolted, is weak, and in tightening-down, the cylinder bores are pulled about even before the engine sfarts its running life.
Further, the water jacket is not always extended to the full or effective length of the cylinder barrel. The piston rings on many engines would have to behave like "drunken snakes" to conform to all the bore distortion and inequalities, whilst, at the same time, providing good • gas-sealing and oil control.
The side-valve engine, which he personally regarded as dead, has presented a most difficult design problem in keeping cylinders true. There is a lop . sidediheat-flow pattern which results in inevitable distortion. One must inevitably come back to the o.h.v. type, and probably wet liners held at their upper ends only and cooled for their whole length. The bores would be chromiumplated, either partially or wholly.
A representative of the Sheepbridge Stokes Co. said it was largely a matter of choice of materials. Nitrided liners would often give 100,000 miles. Loosefitting liners (tight when warm) removed many stresses.
The author mentioned that the problem had been largely solved in commercial-vehicle practice, whilst Mr. Wicks (L.P.T.B.) said that cylinder life could he extended until it became uneconomic —the bearings avould go first. Mr. Williams, of Van der Horst, referred to porous chromium plating, which gave 200,000 miles with a maximum wear of 0.004 in.
It was suggested by Mr. 0. T. Jones that automatically variable transmission gears would reduce cylinder wear by limiting variation in engine speed.