BILL FRAMED BY LONDON: NO REGARD FOR SCOTLAND .6 i DEPUTATION from the Road 1
17th January 1947
Page 29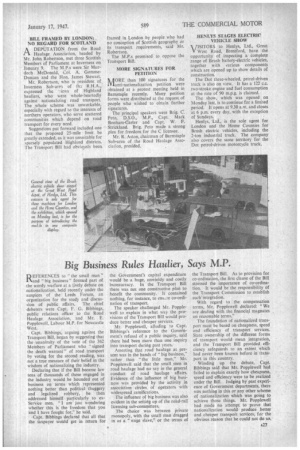 Page 29, 17th January 1947 —
BILL FRAMED BY LONDON: NO REGARD FOR SCOTLAND .6 i DEPUTATION from the Road 1
Close
Haulage Association, headed by Mr. John Robertson, met three Scottish Members of Parliament at Inverness on January 9. The M.P.s were Sir Murdoch McDonald, Col. A. GommeDuncan and the Hon. James Stewart.
Mr. Robertson, who is president of Inverness Sub-area of thI R.H.A., expressed the iews of Highland hauliers, who were whole-heartedly against nationalizing road transport. The whole scheme was unworkable, especially with regard to the interests of northern operators, who serve scattered communities which depend on road transport for every need. Suggestions put forward included one that the proposed 25-mile limit be greatly extended, as it was unsuitable for sparsely populated Highland districts. The Transport Bill had obviously been framed in London by people who had no conception of Scottish geography or its transport requirements, said Mr. Robertson.
The M.P.s promised to oppose the Transport Bill.