FIRST POST-WAR HAULAGE APPEALS
17th January 1947
Page 28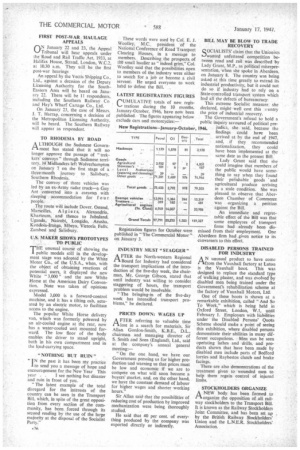 Page 28, 17th January 1947 —
FIRST POST-WAR HAULAGE APPEALS
Close
ON January 22 and 23, the Appeal Tribunal will hear appeals under the Road and Rail Traffic Act. 1933, at Halifax House, Strand, London, W.C.2. at 10.30 a.m. They will be the first post-war hearings
An appeal by the Vectis Shipping Co., Ltd., against a decision of the Deputy Licensing Authority for the SouthEastern Area will be heard on January 22. There will be 11 respondents, including the Southern Railway Co. and Hay's Wharf Cartage Co., Ltd.
On January 2.3, the case of Messrs. J. T. Harrap, concerning a decision of the Metropolitan Licensing Authority, will be heard. The Southern Railway will appear as respondent.
TO RHODESIA BY ROAD
A LTHOUGH the Sudanese GovernI—% merit has stated that it will no longer approve the passage of " trek
kers' convoys " through Sudanese territory, 14 Midtanders left Wolverhampton on January 7 on the first stage of a three-month journey to Salisbury, Southern Rhodesia.
The convoy of three vehicles was led by an ex-Army radar truck—a Guy Ant converted into a caravan with sleeping accommodation for four people.
The route will include Dover, Ostend, Marseilles. Algier s. Alexandria. Khartoum, and thence to Jubaland, Uganda, Nairobi,. Longido. Arusha. Koncloia-Iranga. Mbeya, Victoria Falls. Zambesi and Salisbury.
U.S. MAKER SHOWS PROTOTYPES TO PUBLIC
THE unusual course of showing the public models still in the development stage was adopted by the White Motor Co., of the U.S.A., when, with the object of obtaining reactions of potential users, it displayed the new White "3,000" and the new White Horse at the American Dairy Convention. Note was taken of opinions expressed.
Model 3.000 is a forward-control machine, and it has a tilting cab, actuated by an electric motor, to facilitate access to the engine.
The popular White Horse delivery van, which was formerly powered by an air-cooled engine at the rear, now has a water-cooled unit mounted forward. The low floor of the body enables the driver to stand upright, both in his own compartment and in the load-carrying space.
"NOTHING BUT RUIN" " IN the past it has been my practice I to send you a message of hope and encouragement for the New Year This year . I see nothing but disaster and ruin in front of you.
"The latest example of the total disregard for the interests of the country can be seen in the Transport Bill, which, in spite of the great opposition from every section of the community, has been forced through its second reading by the use of the large majority at the disposal of the Socialist Party."