NEW LOADING ATTACHMENT FOR FARM WORK
17th January 1947
Page 25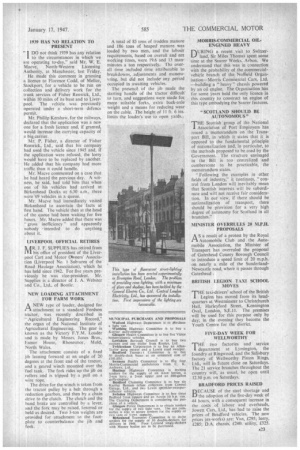 Page 25, 17th January 1947 —
NEW LOADING ATTACHMENT FOR FARM WORK
Close
ANEW type of loader, designed for attachment to a standard Fordson tractor, was recently described in " Agricultural Engineering Record," the organ of the National Institute of Agricultural Engineering. The gear is known as the Victory F.Y.M. Loader and is made by Messrs. Jones Bros., Esmor House, Rhosesmor, Mold, North Wales.
The attachment consists of a fixed jib leaning forward at an angle of 20 degrees at the front end of the tractor, and a geared winch mounted over the fuel tank. The fork rides up the jib on rollers and is tripped by a pull on a wire rope.
The drive for the winch is taken from the tractor pulley by a belt through a reduction gearbox, and then by a chain drive to the clutch. The clutch and the band brake are controlled by a lever. ani the fork may be raised, lowered or held as desired. Two 3-ton weights are provided for attachment to the footplate to counterbalance the jib and fork. A total of 85 tons of trodden manure and 186 tons of heaped manure was loaded by two men, and the labodr requirements, based on overall and net working times, were 19.6 and 13 manminutes a ton respectively. Thc overall time included time attributable to breakdowns, adjustments and manceuvring, but did not include. any period occupied' in awaiting vehicles.
The presence of the jib made the starting handle of the tractor difficult to turn, and suggestions were made for more suitable forks, extra back-axle weight and a means for reducing wear on the cable. The height of 11 ft. 6 ins. limits the loader's use to open yards.: