ONE HEARS
17th January 1918
Page 3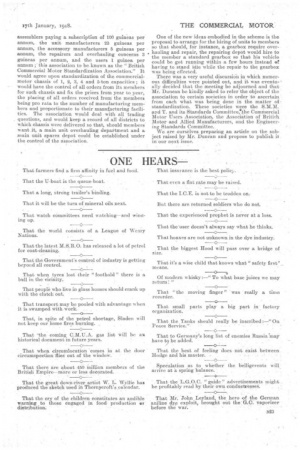 Page 3, 17th January 1918 —
ONE HEARS
Close
That farmers find a firm affinity in fuel and forid.
That the U-boat is the queue-boat.
That a long, strong trailer's binding.
That it will be' the turn of mineral oils next.
That watch committees need watching—and svinct ing up.
That the world consists of a League of Weary Nations.
That the latest M.S:R.O. has released a lotof petrol for coat-cleaning. : That when tyres lost their " foothold " there is a bill in the vicinity..
That people who live in glass houses should crank up with the clutch Out.
That, in spite of the petrol shortage, Slade]] will not keep our home firep burning. , That the coming C.M,U.A. gas list will be an i historical document n future years.
That when circumlocution -comes in at the door circumspection fliesout of the window, • That there are about 450 .million members of the British Empire—more or less .decorated. _ That the great doWn-river. artist W. L. Wyllie has produced the sketch used in Thornyeroft's calendar.
That the cry of the children constitutes an audible warning to those engaged in food production or distribution. That inSnrance is the best policy. That even a flat rate may be raised.
That the I.C.E. is not to be trodden on.
But there are returned soldiers who do not.
That the experienced prophet is never at a loss.
That the 'user doesn't always say what he thinks.
That hoaxes are not unknown in the dye industry.
That the biggest Hood will pass over a bridge of size.
That it's a wiSe child that knows what" safety first ' _ means.
Of modern whisky :—" To what base juices we may return! ".
That "the moving finger" was really a time recorder.
That small parts play a big part in' factory organization. • That the Tanks should really be inscribed :7" Peace Serviee."• • • That to Germany's long list of enemies Russia-may have t9 be added.
That the best of feeling doesnot exist between Hodge and hi S Master.
Speculation as to whether the belligerents will arrive at a spring balance.
Thatthe L.G.O.C. "guide" advertisements might be profitably read by then own cOnduetresseS. .
That Mr. John Leyland,hero of the German aniline dye exploit,brought out the 'G.C; vaporizer before the war.