THE GOVERNMENT AND THE SPARE PARTS QUESTION.
17th January 1918
Page 13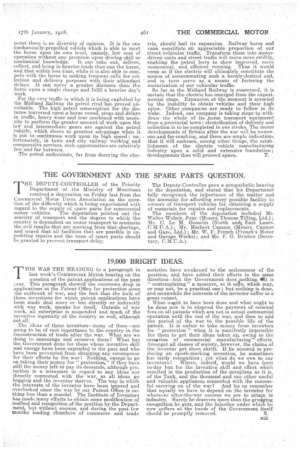 Page 13, 17th January 1918 —
THE GOVERNMENT AND THE SPARE PARTS QUESTION.
Close
THE DEPUTY-CONTROLLER of the Priority Department of the Ministry of Munitions received a deputation on Friday last from the Commercial Motor Users Association on the question of the difficulty which is being experienced with regard to the supply of spare parts for commercial motor vehicles. The deptitation pointed out the scarcity of transport and the degree to which the country is dependent on motor transport to minimize the evil results that are accruing from that shortage, and urged that all facilities that are possible in expediting repairs and the issue of spare parts should be granted to prevent transport delay.
The Deputy-Controller gave a sympathetic hearing to the deputation, and stated that his Department fully recognized the importance of the matter and the necessity, for affording every possible facility to owners of transport vehicles for obtaining a supply of materials for repairs and replacements. The members of the deputation included Mr. Walter WelseST Junr. (Messrs. Thomas Tilling, Ltd.); Mr. C. Le M. Gosselin (North and East Lancs. C.M.U.A.); Mr. Herbert Cannon (Messrs. Cannon and Gaze, ad.); Mr. W. F. French (French's Motor and Garage Works); and Mr. F. G. Bristow (Secretary, C.M.U.A.).