Sightseeing bus
17th February 1978
Page 76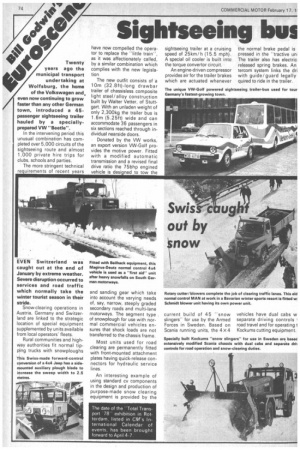 Page 76, 17th February 1978 —
Sightseeing bus
Close
Twenty years ago the municipal transport undertaking at Wolfsburg, the home of the Volkswagen and1 even now continuing to grow faster than any other German town, introduced a 45passenger sightseeing trailer hauled by a speciallyprepared VW "Beetle".
In the intervening period this unusual combination has corn • pleted over 5,000 circuits of the sightseeing route and almost 1,000 private hire trips for clubs, schools and parties.
The more stringent technical re uirements of recent years have now compelled the operator to replace the '' little train", as it was affectionately called, by a similar combination which complies with the new legislation The new outfit consists of a 10m (32.8ft)-long drawbar trailer of chassisless composite light steel/alloy construction built by Walter Vetter, of Stuttgart. With an unladen weight of only 2,300kg the trailer bus is 1.6m (5.25ft) wide and can accommodate 36 passengers in six sections reached through individual nearside doors.
Donated by the VW works, an export version VW-Golf provides the motive power. Fitted with a modified automatic transmission and a revised final drive ratio the 75bhp engined vehicle is desi ned to tow the sightseeing trailer at a cruising speed of 25km/ h (15.5 mph). A special oil cooler is built into the torque convertor circuit.
An engine-driven compressor provides air for the trailer brakes which are actuated whenever the normal brake pedal is pressed in the "tractive un The trailer also has electric released spring brakes. An tercom system links the dri with guide/guard legally quired to ride in the trailer.