Government Bookshop, plonk 33p on the counter and ask for Hansard Volume 943 No 54.
17th February 1978
Page 7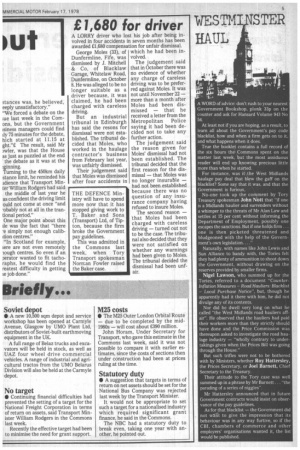 Page 7, 17th February 1978 —
Government Bookshop, plonk 33p on the counter and ask for Hansard Volume 943 No 54.
Close
Keywords :
Georgian Era
,
Jacobitism
,
British People
,
Politics Of The United Kingdom
,
Politics
,
Alumni Of The University Of Hull
,
Roy Hattersley
,
Tory
,
Blacklist
,
Haulage
,
Politics
At least not if you are hoping, as a result, to learn all about the Government's pay code blacklist, how and when a firm gets on to it, and what happens when it does.
True the booklet contains a full record of the six hours the Commons spent on the matter last week, 'hut the most assiduous reader will end up knowing precious little more than when he started.
For instance, was it the West Midlands haulage pay deal that blew the gaff on the blacklist? Some say that it was, and that the Government is furious.
No-one took up the comment by Tory Treasury spokesman John Mat that "if one is a Midlands haulier and surrenders without a whimper to the threats of Mr Alan Law and settles at 15 per cent without informing the Department of Employment, possibly one escapes the sanctions. But if one holds firm . ..
one is then picketed threatened and bludgeoned with the help of the Govern ment's own legislation...."
Naturally, with names like John Lewis and Sun Alliance to bandy with, the Tories felt they had plenty of ammunition to shoot down the Government, without drawing on the reserves provided by smaller firms.
Nigel Lawson, who summed up for the Tories, referred to a document "CounterInflation Measures Road Hauliers: Blacklist Local Purchase Notice-, but, though he apparently had it there with him, he did not divulge any of its contents.
Nor did he dwell very long on what be called "the West Midlands road hauliers aff air". He observed that the hauliers had paid their workers more than they strictly should have done and the Price Commission was thereupon asked to investigate the road haulage industry — "wholly contrary to undertakings given when the Prices Bill was going through the House."
But such trifles were not to be bothered with by Ministers, whether Roy Hattersley, the Prices Secretary, or Joel Barnett, Chief Secretary to the Treasury.
Their attitude to the Tory case was well summed up in a phrase by Mr Barnett ... "the parading of a series of niggles".
Mr Hattersley announced that in future Government contracts would insist on obser vance of the pay guidelines.
As for that blacklist — the Government did not waiit to give the impression that its behaviour was in any way furtive, so if the CBI, chambers of commerce and other employers' organisations wanted it, the list would be published.