Mak atotene
17th February 1978
Page 67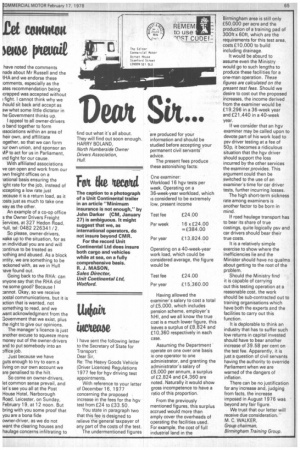 Page 67, 17th February 1978 —
Mak atotene
Close
I have sent the following letter to the Secretary of State for Transport: Dear Sir, Re: The Heavy Goods Vehicle (Driver Licences) Regulations 1977 fee for hgv driving test appointments.
With reference to your letter of December 16, 1977 concerning the proposed increase in the fees for the hgv test from £24 to E33.50.
You state in paragraph two that this fee is designed to relieve the general taxpayer ot any part of the costs of the test.
The undermentioned figures are produced for your information and should be studied before accepting your permanent civil servants' advice.
The present fees produce these astonishing facts: One examiner.
Workload 16 hgv tests per week. Operating on a 36-week-year workload, which is considered to be extremely low, present income Test fee £24.00 Per week 16 x £24.00 =E384.00 Per year £13,824.00 Operating on a 40-week-year work load, which could be considered average, the figure would be Test fee £24.00 Per year E15,360.00 Having allowed the examiner's salary to cost a total of £5,000, which includes pension scheme, employer's NHI, and we all know the true cost is a much lower figure, this leaves a surplus of £8,824 and £10,360 respectively in each case.
Assuming the Department operate on one over one basis ie one operator to one administrator, and granting the administrator's salary of £6,000 per annum, a surplus of £2,824 and £4,360 are noted. Naturally it would show gross incompetence to have a ratio of this proportion.
From the previously mentioned figures, this surplus accrued would more than amply cover the overheads of operating the facilities used. For example, the cost of full industrial land in the Birmingham area is still only £50,000 per acre and the production of a training pad of 300ft x 60ft, which are the requirements for this test area, costs £10,000 to build including drainage.
It would be absurd to assume even the Ministry would go to such lengths to produce these facilities for a one-man operation. These figures are calculated on the present test fees. Should we desire to cost out the proposed increases, the income derived from the examiner would be £19,296 in a 36-week year and £21,440 in a 40-week year.
If we consider that an hgv examiner may be called upon to devote part of his work load to psv driver testing at a fee of 50p, it becomes a ridiculous situation that the hgv driver should support the loss incurred by the other services the examiner provides. This argument could then be switched to the use of an examiner's time for car driver tests, further incurring losses.
The high short-term sickness rate among examiners is another factor to be born in mind.
If road haulage transport has to bear its share of true costings, quite logically psv and car drivers should bear their true costs.
It is a relatively simple exercise to show where the inefficiencies lie and the Minister should have no qualms about getting to the root of the problem.
Should the Ministry find it is capable of carrying out this testing operation at a reasonable cost, the work should be sub-contracted out to training organisations which have both the experts and the facilities to carry out this function.
It is deplorable to think an industry that has to suffer such low returns in capital invested should have to bear another increase of 39.58 per cent on the test fee. Apparently, it is just a question of civil servants having the authority to override Parliament when we are warned of the dangers of inflation.
There can be no justification for any increase and, judging from facts, the increase imposed in August 1976 was beyond any fair figure.
We trust that our letter will receive due consideration. M. C. WALKER, Group chairman, Birmingham Training Group.