Brighter• view by Leyland
17th February 1978
Page 53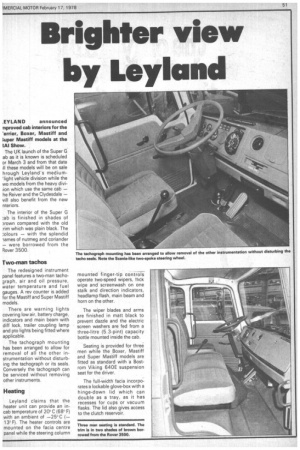 Page 53, 17th February 1978 —
Brighter• view by Leyland
Close
.EYLAND announced
nproved cab interiors for the -errier, Boxer, Mastiff and iuper Mastiff models at the tAI Show.
The UK launch of the Super G ab as it is known is scheduled Dr March 3 and from that date ill these models will be on sale hrough Leyland's mediumlight vehicle division while the wo models from the heavy divijon which use the same cab — he Reiver and the Clydesdale — viii also benefit from the new nteriors.
The interior of the Super G :ab is finished in shades of mown compared with the old Tim which was plain black. The olours — with the splendid -lames of nutmeg and coriander — were borrowed from the Rover 3500.
Two-man tachos
The redesigned instrument panel features a two-man tachograph, air and oil pressure, water temperature and fuel gauges. A rev counter is added for the Mastiff and Super Mastiff models.
There are warning lights covering low air, battery charge, indicators and main beam with diff lock, trailer coupling lamp and pto lights being fitted where applicable.
The tachograph mounting has been arranged to allow for removal of all the other instrumentation without disturbing the tachograph or its seals. Conversely the tachograph can be serviced without removing other instruments.
Heating Leyland claims that the heater unit can provide an incab temperature of 20'-' C (68° F) with an ambient of —25°C (— 13F). The heater controls are mounted on the facia centre panel while the steering column
mounted finger-tip controls operate two-speed wipers, nick wipe and screenwash on one stalk and direction indicators, headlamp flash, main beam and horn on the other.
The wiper blades and arms are finished in matt black to prevent dazzle and the electric screen washers are fed from a three-litre (5.3-pint) capacity bottle mounted inside the cab.
Seating is provided for three men while the Boxer, Mastiff and Super Mastiff models are fitted as standard with a Bostrom Viking 640E suspension seat for the driver.
The full-width facia incorporates a lockable glove-box with a hinge-down lid which can double as a tray, as it has recesses for cups or vacuum flasks. The lid also gives access to the clutch reservoir.