rho Chrysler Dodge
17th February 1978
Page 39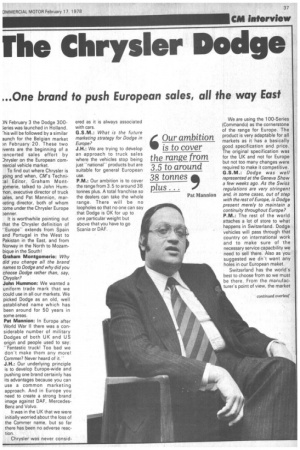 Page 40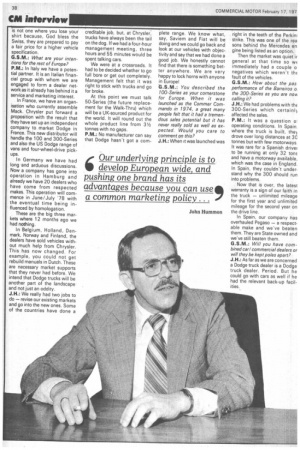 Page 39, 17th February 1978 —
rho Chrysler Dodge
Close
Keywords :
Chrysler
,
Transport
,
Auburn Hills, Michigan
,
Land Transport
,
Rootes
,
Fiat
,
Dodge
,
Barreiros
,
Commer
,
Ram Trucks
,
Dodge 50 Series
...One brand to push European sales, all the way East
lN February 3 the Dodge 300;eries was launched in Holland. This will be followed by a similar aunch for the Belgian market )n February 20. These two :vents are the beginning of a :oncerted sales effort by :,hrysler on the European cornnercial vehicle market,
To find out where Chrysler is )oing and when, CM's Techni-.:al Editor, Graham MontJomerie, talked to John Hum-non, executive director of truck sales, and Pat Mannion, marceting director, both of whom :.ome under the Chrysler Europe Danner.
It is worthwhile pointing out that the Chrysler definition of -Europe" extends from Spain and Portugal in the West to Pakistan in the East, and from Norway in the North to Mozambique in the South!
Graham Montgomerie: Why did you change all the brand names to Dodge and why did you choose Dodge rather than, say, Chrysler?
John Hummon: We wanted a uniform trade mark that we could use in all our markets. We picked Dodge as an old, well established name which has been around for 50 years in some areas.
Pat Mannion: In Europe after World War II there was a considerable number of military Dodges of both UK and US origin and people used to say: "Fantastic truck! Too bad we don't make them any more! Commer? Never heard of it." J.H.: Our underlying principle is to develop Europe-wide and pushing one brand certainly has its advantages because you can use a common marketing approach. And in Europe you need to create a strong brand image against DAF, MercedesBenz and Volvo.
It was in the UK that we were initially worried about the loss of the Commer name, but so far there has been no adverse reaction.
Chrysler was never consid
ered as it is always associated with cars.
G.S.M.: What is the future marketing strategy for Dodge in Europe?
J.H.: We are trying to develop an approach to truck sales where the vehicles stop being just -nationalproducts but are suitable for general European use.
P.M.: Our ambition is to cover the range from 3,5 to around 38 tonnes plus. A total franchise so the dealers can take the whole range. There will be no loopholes so that no one can say that Dodge is OK for up to one particular weight but above that you have to go Scania or DAF.
We are using the 100-Series (Commando) as the cornerstone of the range for Europe. The product is very adaptable for all markets as it has a basically good specification and price. The original specification was for the UK and not for Europe but not too many changes were required to make it competitive. G.S.M.: Dodge was well represented at the Geneva Show a few weeks ago. As the Swiss regulations are very stringent and, in some cases, out of step with the rest of Europe, is Dodge present merely to maintain a continuity throughout Europe? P.M.: The rest of the world attaches a lot of store to what happens in Switzerland, Dodge vehicles will pass through that country on international work and to make sure of the necessary service capacbility we need to sell there. Also as you suggested we dn't want any holes in our European maket.
Switzerland has the world's best to choose from so we must be there. From the manufacturer's point of view, the market is not one where you lose your shirt because, God bless the Swiss, they are prepared to pay a fair price for a higher vehicle specification.
G.S.M.: What are your intentions for the rest of Europe?
P.M.: In Italy we have a potential partner. It is an Italian finan cial group with whom we are engaged to form a dealer network as it already has behind it a service and marketing interest.
In France, we have an organisation who currently assemble Mack. Chrysler put forward a proposition with the result that they have set up an independent company to market Dodge in France. This new distributor will handle the 100 and 300-Series and also the US Dodge range of vans and four-wheel-drive pickups.
In Germany we have had long and arduous discussions.
Now a company has gone into operation in Hamburg and already we have 20 dealers who have come from respected makes. This operation will commence in June/July '78 with the eventual time being influenced by homologation.
These are the big three markets where 12 months ago we had nothing.
In Belgium, Holland, Denmark, Norway and Finland, the dealers have sold vehicles with out much help from Chrysler. This has now changed. For example, you could not get rebuild manuals in Dutch. These are necessary market supports that they never had before. We intend that Dodge trucks will be another part of the landscape and not just an oddity.
J.H.: We really had two jobs to do — revise our existing markets and go into the new ones. Some of the countries have done a creditable job, but, at Chrysler, trucks have always been the tail on the dog. If we had a four-hour management meeting, three hours and 55 minutes would be spent talking cars.
We were at a crossroads. It had to be decided whether to go full bore or get out completely. Management felt that it was right to stick with trucks and go for broke.
At this point we must talk 50-Series (the future replacement for the Walk-Thru) which will be a UK-sourced product for the world. It will round out the whole product line from 31/2 tonnes with no gaps.
P.M.: No manufacturer can say that Dodge hasn't got a corn plete range. We know what, say, Saviem and Fiat will be doing and we could go back and look at our vehicles with objectivity and say that we had done a good job. We honestly cannot find that there is something better anywhere. We are very happy to lock horns with anyone in Europe!
G.S.M.: You described the 100-Series as your cornerstone for Europe. When it was launched as the Commer Commando in 1974, a great many people felt that it had a tremendous sales potential but it has never really sold as well as expected. Would you care to comment on this?
J.H.: When it was launched was right in the teeth of the Perkin: strike. This was one of the rea sons behind the Mercedes en gine being listed as an option.
Then the market was quiet ir general at that time so WE immediately had a couple o negatives which weren't thE fault of the vehicles.
G.S.M.: How about the pas performance of the Barreiros o the 300-Series as you are nom calling it?
J.H.: We had problems with thE 300-Series which certainly affected the sales.
P.M.: It was a question ly operating conditions. In Spain where the truck is built, they drove over long distances at 3C tonnes but with few motorways It was rare for a Spanish drivel to be running at only 32 -tone and have a motorway available, which was the case in England. In Spain, they couldn't understand why the 300 should run into problems.
Now that is over, the latest warranty is a sign of our faith in the truck — unlimited mileage for the first year and unlimited mileage for the second year on the drive line.
In Spain, our company has overhauled Pegaso — a respectable make and we've beaten them. They are State owned and we've still beaten them. G.S.M.: Will you have combined car/ commercial dealers or will they be kept poles apart? J.H.: As far as we are concerned a Dodge truck dealer is a Dodge truck dealer. Period. But he could go with cars as well if he had the relevant back-up facilities.