British bodies oath
17th February 1978
Page 32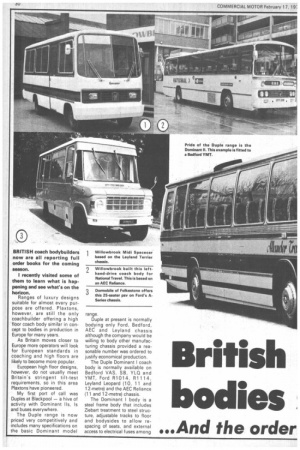 Page 33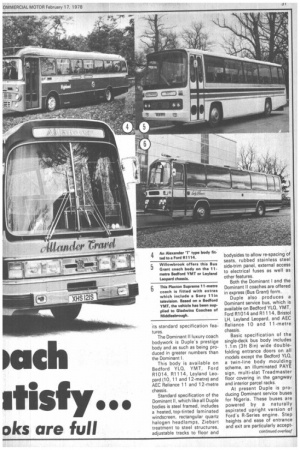 Page 34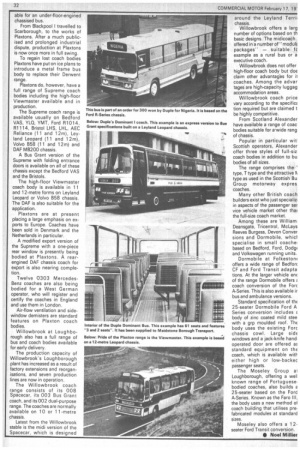 Page 32, 17th February 1978 —
British bodies oath
Close
Keywords :
Buses
,
Land Transport
,
Road Transport
,
Transport
,
Duple Dominant
,
Duple Coachbuilders
,
Plaxton
,
Leyland Leopard
,
Aec Reliance
,
Bristol Lh
,
Plaxton Supreme
,
Alexander Y Type
...And the order Dks are full
BRITISH coach bodybuilders now are all reporting full order books for the coming season.
I recently visited some of them to learn what is happening and see what's on the horizon.
Ranges of luxury designs suitable for almost every purpose are offered. Plaxtons, however, are still the only coachbuilder offering a high 'floor coach body similar in concept to bodies in production in Europe for many years.
As Britain moves closer to Europe more operators will look for European standards in coaching and high floors are likely to become more popular.
European high floor designs, however, do not usually meet Britain's stringent tilt-test requirements, so in this area Plaxtons have pioneered.
My first port of call was Duples at Blackpool — a hive of activity with Dominant IIs, Is and buses everywhere.
The Duple range is now priced very competitively and includes many specifications on the basic Dominant model range.
Duple at present is normally bodying only Ford, Bedford, AEC and Leyland chassis although the company would be willing to body other manufacturing chassis provided a reasonable number was ordered to justify economical production.
The Duple Dominant I coach body is normally available on Bedford VAS, SB, YLQ and YMT, Ford R1014, R1114, Leyland Leopard (10, 11 and 12-metre) and the AEC Reliance (11 and 12-metre) chassis.
The Dominant I body is a steel frame body that includes Ziebart treatment to steel structure, adjustable tracks to floor and bodysides to allow respacing of seats, and external access to electrical fuses among its standard specification features.
The Dominant II luxury coach bodywork is Duple's prestige body and as such as being produced in greater numbers than the Dominant I.
This body is available on Bedford YLQ, YMT, Ford R1014, R1114, Leyland Leopard (10, 11 and 12-metre) and AEC Reliance 11 and 12-metre chassis.
Standard specification of the Dominant II, which like all Duple bodies is steel framed, includes a heated, top-tinted laminated windscreen, rectangular quartz halogen headlamps, Ziebart treatment to steel structures, adjustable tracks to floor and bodysides to allow re-spacing of seats, rubbed stainless steel side-trim panel, external access to electrical fuses as well as other features.
Both the Dominant I and the Dominant II coaches are offered in express (Bus Grant) form.
Duple also produces a Dominant service bus, which is available on Bedford YLQ, YMT, Ford R1014 and R1114, Bristol LH, Leyland Leopard, and AEC Reliance 10 and 11-metre chassis.
Basic specification of the single-deck bus body includes 1.1m (3ft 8in) wide doublefolding entrance doors on all models except the Bedford YLQ, a twin-line body moulding scheme, an illuminated PAYE sign, multi-slat Treadmaster floor covering in the gangway and interior parcel racks.
At present Duple is producing Dominant service buses for Nigeria. These buses are powered by a naturally aspirated upright version of Ford's R-Series engine. Step heights and ease of entrance and exit are particularly accept able for an under-floor-engined chassised bus.
From Blackpool I travelled to Scarborough, to the works of Plaxtons. After a much publicised and prolonged industrial dispute, production at Plaxtons is now once more in full swing.
To regain lost coach bodies Plaxtons have put on ice plans to introduce a metal frame bus body to replace their Derwent range.
Plaxtons do, however, have a full range of Supreme coach bodies including the high-floor Viewmaster available and in production.
The Supreme coach range is available usually on Bedford VAS, YLQ, YMT, Ford R1014, R1114, Bristol LHS, LHL, AEC Reliance (11 and 12m), Leyland Leopard (11 and 12m), Volvo B58 (11 and 12m) and DAF M8200 chassis.
A Bus Grant version of the Supreme with folding entrance doors is available on all of these chassis except the Bedford VAS and the Bristols.
The high-floor Viewmaster coach body is available in 11 and 12-metre forms on Leyland Leopard or Volvo B58 chassis. The DAF is also suitable for the application.
Plaxtons are at present placing a large emphasis on exports to Europe. Coaches have been sold in Denmark and the Netherlands in particular.
A modified export version of the Supreme with a one-piece rear window is presently being bodied at Plaxtons. A rearengined DAF chassis coach for export is also nearing completion.
Twelve 0303 MercedesBenz coaches are also being bodied for a West German operator, who will register and certify the coaches in England and use them in London.
Air-flow ventilation and sidewindow demisters are standard features on Plaxton coach bodies.
Willowbrook at Loughborough also has a full range of bus and coach bodies available for early delivery.
The production capacity of Willowbrook's Loughborough plant has increased as a result of factory extensions and reorganisations, and seven production lines are now in operation.
The Willowbrook coach range consists of its 008 Spacecar, its 003 Bus G rant coach, and its 002 dual-purpose range. The coaches are normally available on 10 or 11-metre chassis.
Latest from the Willowbrook stable is the midi version of the Spacecar, which is designed around the Leyland Terri' chassis.
Willowbrook offers a larg number of options based on th basic designs. The midicoach offered in a number of "modulE packages" — suitable ft example as a rural bus or a executive coach.
Willowbrook does not offer high-floor coach body but doe claim other advantages for ii coaches. Among the advar tages are high-capacity luggag accommodation areas.
Willowbrook coach price vary according to the specifice tion required but are claimed t be highly competitive.
From Scotland Alexander have available a range of coac bodies suitable for a.vvide rang of chassis.
Popular in particular wit Scottish operators, Alexander offer three styles of full-siz coach bodies in addition to bu bodies of all sizes.
The range comprises the ' type, T type and the attractivell. type as used in the Scottish Bu Group motorway expres coaches.
Many other British coach builders exist who just specializi in aspects of the passenger set vice vehicle market other thar the full-size coach market.
Among these are William: Deansgate, Tricentrol, McLays Reeves Burgess, Devon Conver sions and Dormobile, whicl specialise in small coache: based on Bedford, Ford, Dodgt and Volkswagen running units.
Dormobile at Folkestoni offers a wide range of Bedforc CF and Ford Transit adapta tions. At the larger vehicle enc of the range Dormobile offers e coach conversion of the Fort A-Series. This is also available ir bus and ambulance versions.
Standard specification of the 25-seater Dormobile Ford A Series conversion includes e body of zinc coated mild stee with a grp moulded roof. The body uses the existing Fort chassis cowl. Large side windows and a jack-knife hand. operated door are offered at standard equipment on the coach, which is available with either high or low-backet passenger seats.
The Moseley Group al Loughborough, offering a well known range of Portuguesebodied coaches, also builds a 25-seater based on the Ford A-Series. Known as the Faro III, the body uses a new method of coach building that utilises prefabricated modules at standard sizes.
Moseley also offers a 12seater Ford Transit conversion, • Noel Millier