Not our Ron
17th February 1978
Page 31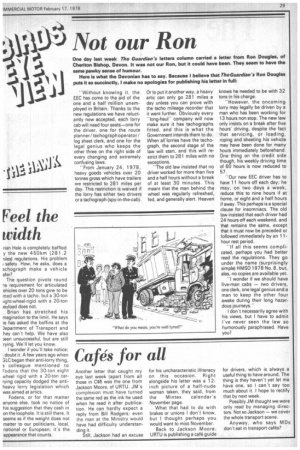 Page 31, 17th February 1978 —
Not our Ron
Close
One day last week The Guardian's letters column carried a letter from Ron Douglas, of Chariton Bishop, Devon. It was not our Ron, but it could have been. They seem to have the same pawky sense of humour.
Here is what the Devonian has to say. Because I believe that TheGuardian's Ron Douglas puts it so succinctly, I make no apologies for publishing his letter in full:
-Without knowing it, the EEC has come to the aid of the one and a half million unemployed in Britain. Thanks to the new regulations we have reluctantly now accepted, each lorry cab will need four seats—one for the driver, one for the route planner/tachograph operator/ log sheet clerk, and one for the legal genius who keeps the other three on the right side of every changing and extremely confusing laws.
"From January 24, 1978, heavy goods vehicles over 20 tonnes gross which have trailers are restricted to 281 miles per day. This restriction is waived if the lorry has either two drivers or a tachograph (spy-in-the-cab).
Or to put it another way, a heavy artic can only go 281 miles a day unless you can prove with the tacho mileage recorder that it went further. Obviously every "long-haulcompany will now make sure it has tachographs fitted, and this is what the Government intends them to do. When all lorries have the tachograph, the second stage of the law will start, and this will restrict them to 281 miles with no exceptions. "The old law insisted that no driver worked for more than five and a half hours without a break of at least 30 minutes. This meant that the man behind the wheel was regularly refreshed, fed, and generally alert. Heaven
knows he needed to be with 32 tons in his charge.
"However, the oncoming. lorry may legally be driven by a man who has been working for
13 hours non stop. The new law only insists on a break after five
hours' driving, despite the fact that servicing, or loading, roping and sheeting his vehicle
may have been done for many hours immediately beforehand. One thing on the credit side though, his weekly driving time of 60 hours is now reduced to 57.
"Our new EEC driver has to have 11 hours off each day; he may, on two days a week, reduce this to nine hours if at home, or eight and a half hours if away. This perhaps is a special clause for insomniacs. The old law insisted that each driver had 24 hours off each weekend, and that remains the same, except that it must now be preceded or followed immediately by an 11hour rest period. "If all this seems complicated, perhaps you had better
read the regulations. They go
under the name (surprisingly simple) HMSO 1978 No. 8, but, alas, no copies are available yet.
"I wonder if we should have five-man cabs — two drivers, one clerk, one legal genius and a man to keep the other four awake during their long hazardous journeys.
I don't necessarily agree with his views, but I have to admit I've never seen the law so humorously paraphrased. Have you?