Feel the width
17th February 1978
Page 31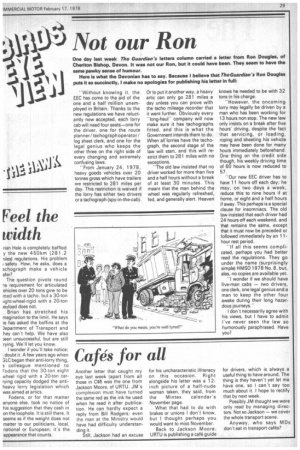 Page 31, 17th February 1978 —
Feel the width
Close
Tian Hale is completely baffled y the new 450km (281.2 rides) regulations. His problem ; safety. How, he asks, does a achograph make a vehicle afer?
The question pivots round he requirement for articulated ehicles over 20 tons gvw to be itted with a tacho, but a 30-ton tight-wheel-rigid with a 20-ton )ayload does not. Brian has stretched his magination to the limit. He says le has asked the boffins at the )epartment of Transport and :hey can't help. We have also )een unsuccessful, but are still :rying. We'll let you know. I wonder if you'll take notice; I doubt it. A few years ago when 73LC began their anti-lorry thing, 3 colleague mentioned to Fodens that the 30-ton eight wheel rigid with a 20-ton carrying capacity dodged the antiheavy lorry legislation which was aimed at artics.
Fodens, or for that matter anyone else, took no notice of his suggestion that they cash in on the loophole. It is still there. It seems as if the weight does not matter to our politicians, local, national or European; it's the appearance that counts.