Cafés for all
17th February 1978
Page 31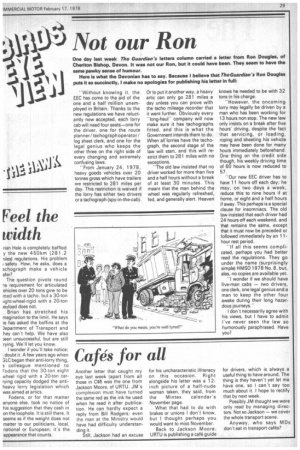 Page 31, 17th February 1978 —
Cafés for all
Close
Another letter that caught my eye last week (apart from all those in CM) was the one from Jackson Moore, of URTU. JM's complexion must have turned the same red as the ink he used when he read it after publication. He can hardly expect a reply from Bill Rodgers; even the man at the Ministry would have had difficulty understanding it.
Still, Jackson had an excuse for his uncharacteristic illiteracy on this occasion. Right alongside his letter was a 12inch picture of a half-nude woman taken, they said, from the Mintex calendar's November page.
What that had to do with brakes or unions I don't know, but I thought perhaps you would want to miss November.
Back to Jackson Moore. URTU is publishing a café guide
for drivers, which is always a useful thing to have around. The thing is they haven't yet let me have one, so I can't say too much about it. I hope to rectify that by next week. Possibly JM thought we were only read by managing directors. Not so Jackson — we cover the whole transport scene. Anyway, who says MDs don't eat in transport cafes?