Blacklist storm
17th February 1978
Page 28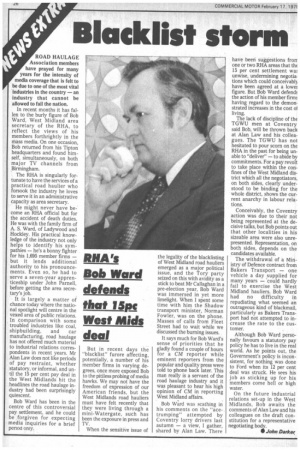 Page 28, 17th February 1978 —
Blacklist storm
Close
RHA 'S Bob Ward defends that 15pc West Mids deal
ROAD HAULAGE Association members have prayed for many years for the intensity of media coverage that is felt to be due to one of the most vital industries in the country — an industry that cannot be allowed to fail the nation.
In recent months it has fallen to the burly figure of Bob Ward, West Midland area secretary of the RHA, to reflect the views of his members forthrightly in the mass media. On one occasion, Bob returned from his Tipton headquarters and found himself, simultaneously, on both major TV channels from Birmingham.
The RHA is singularly fortunate to have the services of a practical road haulier who forsook the industry he loves to serve it in an administrative capacity as area secretary.
He might never have become an RHA official but for the accident of death duties. He was with the family firm of A. S. Ward, of Ladywood and Hockley. His practical knowledge of the industry not only helps to identify his sympathies — he's a bonny fighter for his 1,695 member firms — but it lends additional authority to his pronouncements. Even so, he had to serve a seven-year apprenticeship under John Parnell, before getting the area secretary's job.
It is largely a matter of chance today where the national spotlight will centre in the vexed area of public relations. In comparison with some troubled industries like coal, shipbuilding, and car manufacturing, road haulage has not offered much material to industrial relations correspondents in recent years. Mr Alan Law does not like periods of pay restraint, whether statutory, or informal, and until the 15 per cent pay deal in the West Midlands hit the headlines the road haulage industry had been surprisingly quiescent.
Bob Ward has been in the centre of this controversial pay settlement, and he could be forgiven for expecting media inquiries for a brief penoo only. But in recent days the "blacklist" furore affecting, potentially, a number of his member firms in varying degrees, once more exposed Bob to the pitiless probing of media hawks. We may not have the freedom of expression of our American friends, but the West Midlands road hauliers must have felt recently that they were living through a mini-Watergate, such has been the exposure in press and TV.
When the sensitive issue of the legality of the blacklisting of West Midland road hauliers emerged as a major political issue, and the Tory party seized on this with avidity as a stick to beat Mr Callaghan in a pre-election year, Bob Ward was immersed in yet more limelight. When I spent some time with him the Shadow transport minister, Norman Fowler, was on the phone. Masses of calls from Fleet Street had to wait while we discussed the burning issues.
It says much for Bob Ward's sense of priorities that he gladly found a couple of hours for a CM reporter while eminent reporters from the popular and quality press were told to phone back later. This man really is a servant of the road haulage industry and it was pleasant to hear his high opinion of CM in reporting West Midland affairs.
Bob Ward was scathing in his comments on the "acetrumping" attempted by Coventry lorry drivers last autumn — a view, I gather, shared by Alan Law. There have been suggestions frorr one or two RHA areas that tin 15 per cent settlement wa: unwise, undermining negotiations which could conceivably have been agreed at a towel figure. But Bob Ward defendE the action of his member firmE having regard to the demonstrated increases in the cost ol living.
The lack of discipline of the TGWU men at Coventry said Bob, will be thrown back at Alan Law and his colleagues. The TGWU has not hesitated to pour scorn on the RHA in the past for being unable to "deliver" — to abide by commitments. For a pay revolt to take place within the confines of the West Midland district which all the negotiators, on both sides, clearly understood to be binding for the whole district, shows the current anarchy in labour relations.
Conceivably, the Coventry action was due to their not being represented at the decisive talks, but Bob points out that other localities in his sizeable area were also unrepresented. Representation, on both sides, depends on the candidates available.
The withdrawal of a Ministry of Defence contract from Bakers Transport — one vehicle a day 'supplied for many years — could hardly fail to exercise the West Midland hauliers. Bob Ward had no difficulty in repudiating what seemed an outrageous kind of blackmail, particularly as Bakers Transport had not attempted to increase the rate to the customer.
Although Bob Ward personally favours a statutory pay policy he has to live in the real world. As he points out, the Government's policy is inconsistent, for nothing was done to Ford when its 12 per cent deal was struck. He sees his job as sticking up for his members come hell or high water.
On the future industrial relations set-up in the West Midlands, Bob awaits the comments of Alan Law and his colleagues on the draft constitution for a representative negotiating body.
• John Darker: