Rodgers 1c London prat
17th February 1978
Page 24
Page 25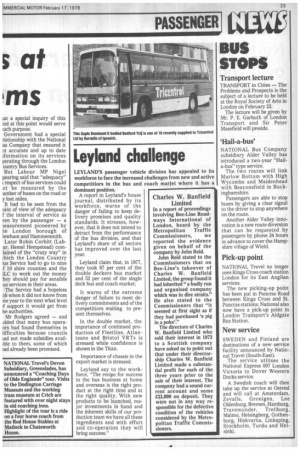 Page 24, 17th February 1978 —
Rodgers 1c London prat
Close
; at ms
Transport Minister William Rodgers is carefully monitoring the bus situation in London and its surrounding areas, Under Secretary, John Horam, when faced with a long list of hostile questions in the House of Commons.
Labour MP Stan Newens, suggested that the structure based upon the London Country Bus Service controlled from Reigate was totally wrong. He was told that there must be a little more time to see whether things could be put right within the existing structure.
There had been real pro blems with the London Col try Bus Services, admitted r Horam — it had inherited old fleet and inadeqw maintenance facilities, whJ was only very slowly being I right.
Tory MP Hugh Dyke no1 that it was obviously diffic for the Government to int vene directly in these matte but said that if it did, the mi powerful searchlight could focussed upon this problem.
If the Government gave t right push to an inquiry, t long overdue job of reformi London bus services could I gin.
But Mr. Horam did not thi iat a special inquiry of this Lnd at this point would serve tuch purpose.
Government had a special lationship with the National us Company that ensured it pt accurate and up to date iformation on its services perating through the London ountry Bus Services.
But Labour MP Nigel pearing said that "adequacy" respect of bus services could ot be measured by the umber of buses on the road or y lost miles.
It had to be seen from the oint of view of the adequacy f the interval of service as aen by the passenger — a ieasurement pioneered by le London borough of fewham and Hammersmith. Later Robin Corbitt (Labur, Hemel Hempstead) comlained of the "crazy way" in rhich the London Country us Service had to go to nine f 10 shire counties and the ;LC to work out the money hey should pay for sensible us services in their areas.
The Service had a hopeless Db when it did not know from ,ne year to the next what level ,f support it would get from he authorities.
Mr Rodgers agreed — and .dded that many bus operaors had found themselves in lifficulties because councils lad not made subsidies availJoie to them, some of which lad already been promised.