Leyland challenge
17th February 1978
Page 25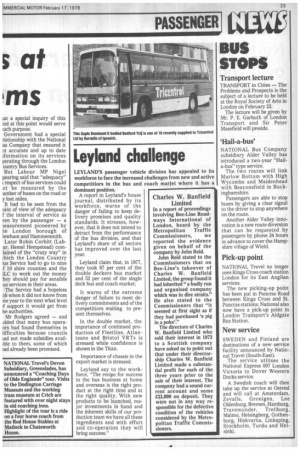 Page 25, 17th February 1978 —
Leyland challenge
Close
LEYLAND'S passenger vehicle division has appealed to its workforce to face the increased challenges from new and active competitiors in the bus and coach marjet where it has a dominant position.
A report in Leyland's house journal, distributed by its workforce, warns of the danger of failing to keep delivery promises and quality standards. It stresses, however, that it does not intend to detract from the performance of the bus division, and that Leyland's share of all sectors has improved over the last year.
Leyland claim that, in 1977, they took 87 per cent of the double deckers bus market and 52 per cent of the single deck bus and coach market.
It warns of the extreme danger of failure to meet delivery commitments and of the competitiors waiting to present themselves.
In the double market, the importance of continued production of Fleetline, Atlan teans and Bristol VRTs is stressed while confidence is shown in the Titan.
Importance of chassis in the export market is stressed.
Leyland say to the workforce, "The recipe for success in the bus business at home and overseas is the right product at the right time and at the right quality. With new products to be launched, major investments in hand and the inherent skills of our production team we have all these Ingredients and with effort and co-operation they will bring success."