BUS STOPS
17th February 1978
Page 25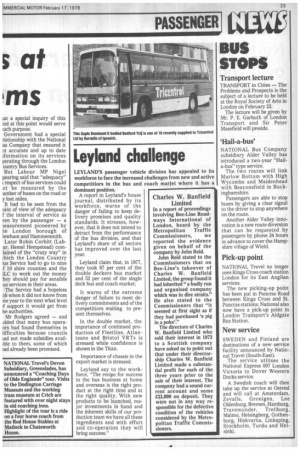 Page 25, 17th February 1978 —
BUS STOPS
Close
Transport lecture
TRANSPORT in Cities — The Problems and Prospects is the subject of a lecture to be held at the Royal Society of Arts in London on February 22.
The lecture will be given by Mr. P. E. Garbuth of London Transport and Sir Peter Masefield will preside.
'Hail-a-bus'
NATIONAL Bus Company subsidiary Alder Valley has introduced a two-year "Haila-bus" type service.
The two routes will link Marlow Bottom with High Wycombe and Maidenhead with Beaconsfield in Buckinghamshire.
Passengers are able to stop buses by giving a clear signal to the driver to stop anywhere on the route.
Another Alder Valley innovation is a new route diversion that can be requested by passengers by phone 24 hours in advance to cover the Hampshire village of Wield.
Pick-up point
NATIONAL Travel no longer uses Kings Cross coach station London for its East Anglian services.
The new picking-up point has been put in Pancras Road between Kings Cross and St. Pancras stations. National also now have a pick-up point in London Transport's Aldgate Bus Station.
New service
SWEDEN and Finland are destinations of a new service facility announced by Natio. nal Travel (South-East).
The service utilises the National Express 007 London Victoria to Dover Western Docks service.
A Swedish coach will then take up the service at Ostend and will call at Amsterdam, Zevalle, Gronigen, Lee Oldenburg, Bremen, Hamburg, Travemunder, Trellborg, Malmo, Helsingborg, Gothenburg, Hiskvarna, Linkaping, Stockholm, Turdu and Helsinki.
Tags
Locations
:
Amsterdam
,
Gothenburg
,
Trellborg
,
Turdu
,
Linkaping
,
Helsinki
,
Victoria
,
Malmo
,
Travemunder
,
London
,
Hamburg
,
Helsingborg
,
Hiskvarna
,
Stockholm