PEOPLE Leyland changes
17th February 1978
Page 23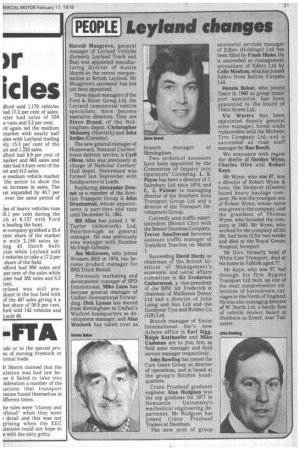 Page 23, 17th February 1978 —
PEOPLE Leyland changes
Close
Harold Musgrove, general manager of Leyland Vehicles (formerly Leyland Truck and Bus) was appointed manufacturing director of Austin Morris in the recent reorganisation at British Leyland. Mr Musgrove's successor has not yet been appointed.
Three depot managers of the Ford & Slater Group Ltd, the Leyland commercial vehicle specialists, have become executive directors. They are Steve Brand, of the Nottingham depot, Christopher Mahoney (Norwich) and John Smiles (Grimsby).
The new general manager of Homeward, National Carriers' home delivery service, is Cyril Oliver, who was previously in charge of National Carriers' Hull depot. Homeward was formed last September with headquarters in Leeds.
Replacing Alexander Donnet as a member of the Scottish Transport Group is John Drummond, whose appointment is part-time and runs until December 31, 1981.
Bill Allan has joined J. W. Taylor (Ailsworth) Ltd, Peterborough as general manager. He was previously area manager with Humber McVeigh Grimsby.
Jim McGovern, who joined Western BRS in 1974, has become product manager for BRS Truck Rental.
Previously marketing and development manager of SPD International, Mike Lunn has become general manager of Unifast International Forwarding. Dick Lyman has moved from Birmingham to Unifast's Watford headquarters as development manager, and Alan Wenlock has taken over as branch manager at Birmingham.
Two technical assessors have been appointed by the Committee of Inquiry into Operators' Licensing. L. S. Payne has been a director of J. Sainsbury Ltd since 1974, and C. J. Palmer is managing director of the Southern Area Transport Group Ltd and a director of the Transport Development Group.
Currently area traffic superintendent (Bristol City) with the Bristol Omnibus Company, Trevor Smallwood becomes assistant traffic manager of Yorkshire Traction on March 1.
Succeeding David Hardy as chairman of the British Institute of Management's economic and social affairs committee is Sir Frederick Catherwood, a vice-president of the BIM. Sir Frederick is chairman of Mallinson Denny Ltd and a director of John Laing and Son Ltd and the Goodyear Tyre and Rubber Co (GB) Ltd.
Branch manager of Eaton International Inc's new Athens office is Earl Sigg. 'Ralph Katthoefer and Mike Cashman are to join him as field sales manager and field service manager respectively.
John Rawling has joined the Cam Gears Group as director of operations, and is based at the group's Hitchin headquarters.
Crane Fruehauf graduate engineer Alan Hodgson was the top graduate for 1977 in Newcastle University's mechanical engineering department. Mr Hodgson has joined Crane Fruehauf Trailers at Dereham.
The new post of group secretarial services manager of Edbro (Holdings) Ltd has been filled by Frank Hinks. He is succeeded as management accountant of Edbro Ltd by Colin Moulton, who has joined Edbro from Bolton Carpets Ltd.
Dennis Baker, who joined Tesco in 1966 as group transport executive, has been appointed to the board of Tesco Stores Ltd.
Vic Waters has been appointed deputy general sales manager, home trade replacement with the Michelin Tyre Company Ltd, and is succeeded as road staff manager by Ron Beech.
We announce with regret the deaths of Gordon Wynn, Charles Givv and Robert Kaye.
Mr Wynn. who was 67, was a director of Robert Wynn & Sons, the Newport (Gwent) based heavy haulage company. He was the youngest son of Robert Wynn, whose name was given to the company, and the grandson of Thomas Wynn, who founded the company in 1863. Mr Wynn, who worked for the company all his life, had been ill for two weeks and died at the Royal Gwent Hospital, Newport.
Mr Givv, formerly head of White Line Transport, died at his home in Falkirk aged .77.
Mr Kaye, who was 57. had through his firm Bygone Transport Ltd built up one of the most comprehensive collections of horsedrawn carriages in the North of England. He was also managing director of W. North Ltd, a family firm of vehicle dealers based at Sherburn-in-Elmet. near Tadcaster.
Tags
People
:
C. J. Palmer
,
Trevor Smallwood
,
Mike Lunn
,
Dick Lyman
,
Alan Wenlock
,
Alan Hodgson
,
Charles Givv
,
Robert Kaye
,
Ralph Katthoefer
,
Gordon Wynn
,
Frank Hinks
,
John Drummond
,
Frederick Catherwood
,
Earl Sigg
,
L. S. Payne
,
Bill Allan
,
Vic Waters
,
Rawling
,
Cyril Oliver
,
John Smiles (Grimsby)
,
Mike Cashman
,
Alexander Donnet
,
Jim McGovern
,
Colin Moulton
,
Thomas Wynn
,
Harold Musgrove
,
Christopher Mahoney (Norwich)
,
Ron Beech
,
Dennis Baker