Sales soal medium v
17th February 1978
Page 22
Page 23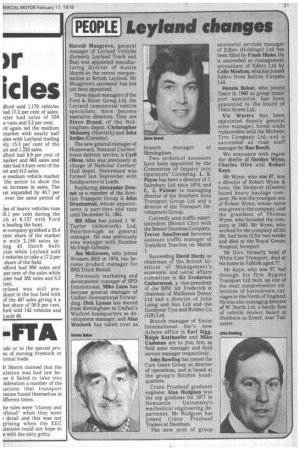 Page 22, 17th February 1978 —
Sales soal medium v
Close
)r idles
COMMERCIAL vehicle sales soared by over 30 per cent in January compared to the previous January — and it was the highest figure for the month for three years.
But figures issued by the Society of Motor Manufacturers and Traders this week show that imports also rose during the month to 18.4 per cent of the total sales.
Market leader for the month was Ford with 8,470 and per cent of the total of 22,D sales while Leyland trail( with 5,194 sales and 25.5 p cent of market.
Bedford was third in tt league with 2,983 sales ar Chrysler sold 1,153 vehicles.
In the light van class Le: land led with 34.6 per cent I the market and Ford came second with 2,081 sales an 30.6 per cent of the market. dford sold 1,170 vehicles• lad 17.2 per cent of sales. rsler had sales of 356 a vans and 5.2 per cent. rd again led the medium market with nearly half ales with Leyland trailing nly 15.3 per cent of the Let and 1,325 sales.
dford had 9.9 per cent of narket and 863 sales and ,sler had 4.8 per cent of the cet and 412 sales.
ie medium vehicle market the sector to show the !st increase in sales. The et expanded by 43.7 per over the same period of :les of heavy vehicles rose 15.1 per cent during the th at 6,157 with Ford n leading the hunt.
te company grabbed a 35.4 cent share of the market :e with 2,180 sales inling 45 Dutch built :cies while Leyland sold 1 vehicles to take a 17.2 per . share of the field.
dford had 950 sales and per cent of the sales while ysler had 385 sales and 6.3 ?.yland was still prednant in the bus field with of the 487 sales giving it a ket share of 58.9 per cent. ford sold 142 vehicles and sold 49.