Urgency of Rallying Defence Transport
17th February 1939
Page 54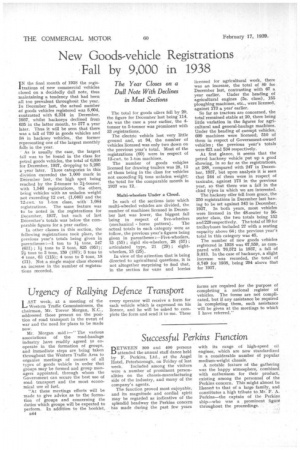 Page 54, 17th February 1939 —
Urgency of Rallying Defence Transport
Close
LAST week, at a meeting of the Western Traffic Commissioners, the chairman, Mr. Trevor Morgan, K.C., addressed those present on the position of road transport in the event of war and the need for plans to be made now.
Mr. Morgan said :—" The various associations of the road-haulage industry have readily agreed to cooperate in the formation of groups, and immediate steps are being taken throughout the Western Traffic Area to organize meetings of owners of all types of goods vehicle in order that groups may be formed and group managers appointed, through whom the Government can secure the best use of road transport and the most economical use of fuel.
"At these meetings efforts will be made to give advice as to the formation of groups and concerning the duties which groups will be expected to perform. In addition to the booklet, B44 every operator will receive a form for each vehicle which is expressed on his licence, and he will be asked to complete the form and send it to me. These forms are required for the purpose of completing a national register of vehicles. The forms are not complicated, but if any assistance be required in completing them, such assistance will be given at the meetings to which I have referred."