Railway "Losses" Only Relative
17th February 1939
Page 47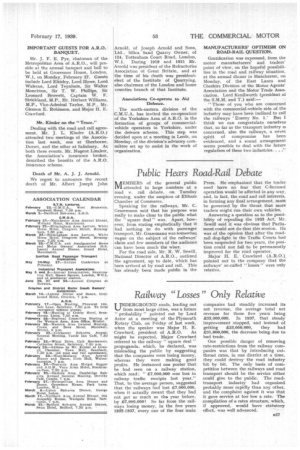 Page 47, 17th February 1939 —
Railway "Losses" Only Relative
Close
T INDERGROUND roads, leading out %..." from mast large cities, was a future " probability " pointed out by Lord Astor at a meeting of the Plymouth Rotary Club, on Friday of last week, when the speaker was Major H. E.
Crawfurd, president of A.R.O. As might he expected, Major Crawfurd referred to the railway " square deal " propaganda, which, he declared, was misleading the public by suggesting that the companies were losing money, whereas they were making good profits. He instanced one poster that he had seen on a railway station, which read: "£7,000,000 was lost in railway traffic receipts last year." That, to the average person, suggested that the railways had lost £7,000,000, when it actually meant that they had not got so much as th5 year before, by £7,000,000f So far from the railways losing money, in the five years 1932-1937, every one of the four main companies had steadily increased its net revenue, the average total net revenue for those five years being £23,000,000. In 1937, that steady improvement stopped, and instead of getting £33,000,000, they had 31,000,000, the decrease being due to bad trade.
One possible danger of removing rate-restrictions from the railway companies was that by introducing cutthroat rates, in one district at a time, they could destroy the road industry bit by bit. The only basis of competition between the railways and road transport should be the service either could give to the public. The roadtransport industry had organized probably more rapidly than any other, and the complaint against it was that it gave service at too tow a rate. The compilation of a rates structure, which, if approved, would have statutory effect, was well advanced.