Public Hears Road-Rail Debate
17th February 1939
Page 47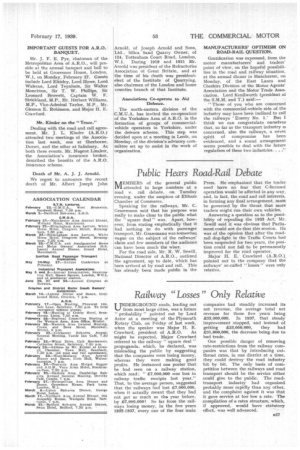 Page 47, 17th February 1939 —
Public Hears Road-Rail Debate
Close
ftIIEMBERS of the general public in attended in large numbers at a road v. rail debate, on Tuesday evening, under the auspices of Eltham Chamber of Commerce.
Speaking for the railways, Mr. C. Grasemann said that his purpose was really to make clear to the public what the "square deal" was. Apart, however, from stating emphatically that it had nothing to do with passenger transport, Mr. Grasemann was somewhat vague on the subject of the railways' claim and few members of the audience can have been much the wiser.
For the road side, Mr. R. W. Sewill, National Director of A.R.O., outlined the agreement, up to date, which has been arrived at by road and rail. This has already been made public in the Press. He emphasized that the trader need have no fear that G.licensed operation would be affected in any way, and, in fact, the road and rail interests, in forming any final arrangement, must be governed by the threat that more traders might run their own vehicles.
Answering a question as to the possibility of repealing the 1933 Act, Mr. Sewill said it was obvious that Parliament could not do that this session. He was of the opinion that after the roadrail dog-fight in the Traffic Courts had been suspended for two years, the position could not fail to be permanently improved for the road operator.
Major H. E. Crawfurd (A.R.0.). pointed out to the company that the railways' so-called " losses" were only relative.