New Piston-type Hydraulic Shock Absorber
17th February 1939
Page 45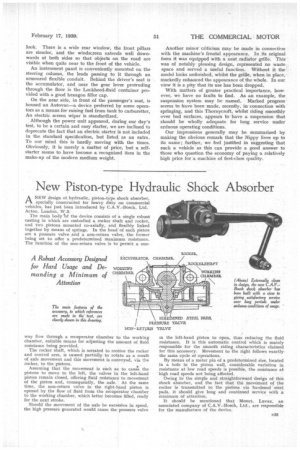 Page 45, 17th February 1939 —
New Piston-type Hydraulic Shock Absorber
Close
ANEW design of hydraulic, piston-type shock absorber, specially constructed for heavy duty on commercial vehicles, has just been introduced by C.A.V.-Bosch, Ltd. Acton, London, W.3.
The main body 'of the device consists of a single robust casting in which are embodied a rocker shaft and rocker, and two pistons mounted co-axially, and flexibly linked together by means of springs. In the head of each piston are a pressure valve and a non-return valve, the former being set to offer a predetermined maximum resistance. The function of the non-return valve is to permit a one
way flow through a recuperator chamber to the working chamber, suitable means for adjusting the amount of fluid resistance being provided.
The rocker shaft, which is serrated to receive the rocker and control arm, is caused partially to rotate as a result of axle movement and this movement is conveyed, via the rocker, to the pistons.
Assuming that the movement is such as to cause the pistons to move to the left, the valves in the left-hand piston remain closed, offering fluid resistance to movement of the piston and, consequently, the axle. At the same time, the non-return valve in the right-hand piston is opened by the flow of fluid from the recuperator chamber to the working chamber, which latter becomes filled, ready for the next stroke.
Should the movement of the axle be excessive in speed, the high pressure generated would cause the pressure valve in the left-hand piston to open, thus reducing the fluid resistance. It is this automatic control which is mainly responsible for the smooth riding characteristics claimed for this accessory. Movement to the right follows exactly% the same cycle of operations.
By means of a meter pin of a predetermined size, located in a hole in the piston wall, considerable variation in resistance at low road speeds is possible, the resistance at high road speeds not being affected.
Owing to the simple and straightforward design of this shock absorber, and the fact that the movement of the rocker is transmitted to the pistons via hardened steel pads, it should give long and continued service with a minimum of attention,
It should be mentioned that Messrs. Luvax, an associated company of C.A.V.-Bosch, Ltd., are responsible for the manufacture of the device.