LICENCE REGRANTED BUT MODIFICATION WITHHELD.
17th February 1939
Page 33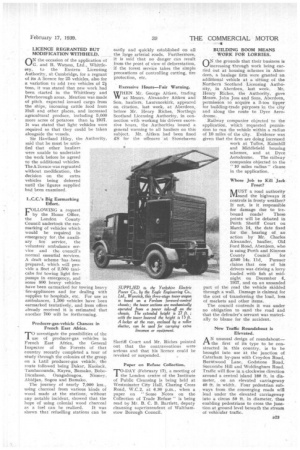 Page 33, 17th February 1939 —
LICENCE REGRANTED BUT MODIFICATION WITHHELD.
Close
d-IN the occasion of the application of • ---0G. and B. Watson, Ltd., Whittlesey, to the Eastern Licensing Authority, at Cambridge, for a regrant of its A licence for 25 vehicles, also for a variation to add two vehicles of 2i tons, it was stated that new work had been started in the Whittlesey and Peterborough areas. Mention was made of pitch expected inward cargo from the ships, incoming cattle food from Hull and other places, and increased agricultural produce, including 5,000 more acres of potatoes than in 1937. It was stated that light vehicles were required so that they could be taken alongside the vessels.
Sir Haviland Hiley, the Authority, said that he must be satisfied that other hauliers were unable to undertake the work before he agreed to the additional vehicles. The A licence was regranted without modification, the decision on the extra vehicles being deferred until the "figures supplied had been examined.
L.C.C.'s Big Earmarking Effort.
FOLLOWING a request by the Home Office, the London County Council undertook the earmarking of vehicles which would be required in emergency for the auxiliary fire service, the volunteer ambulance service and the council's normal essential services. A draft scheme -has been prepared, which will provide a fleet of 2,500 taxicabs for towing light firepumps in emergency, and some 800 heavy vehicles have been earmarked for towing heavy fire-appliances and for dealing with supplies to hospitals, etc. For use as ambulances, 1,300 vehicles have been earmarked tentatively, and from offers already received it is estimated that another 700 will be forthcoming.
Producer-gas-vehicle Chances in French East Africa.
investigate the possibilities of the use of producer-gas vehicles in French East Africa, the General Inspector of the Forests of that country recently completed a tour of study through the colonies of the group on a Latil producer-gas vehicle, the route followed being Dakar, Kaolack, Tambacounda, Kayeu, Bamako, BoboDiculasso, Ouagadougou, Nismey, Abidjan, Sogou and Bamako.
The journey of nearly 7,000 km., using charcoal from various kinds of wood made at the stations, without any notable incident, showed that the hope of using colonial wood charcoal
as a fuel can he realized. It was shown that refuelling stations can be
easily and quickly established on all the large arterial roads. Furthermore, it is said that no danger can result from the point of view of deforestation, if the forest service takes the simple precautions of controlling cutting, fire protection, etc.
Excessive Hours—Fair Warning.
WHEN Mr. George Aitken, trading as Messrs. Alexander Aitken and Son; hauliers, Laurencekirk, appeared on citation, last week, at Aberdeen, before Mr. Henry Riches, NortheLn Scotland Licensing Authority, in connection with working his drivers excessive hours, the Authorities issued a general warning to all hauliers on this subject. Mr. Aitken had been fined £8 for the offences at Stonehaven
Sheriff Court and Mr. Riches pointed out that the contraventions were serious and that his licence could be revoked or suspended.
Paper on Refuse Collection.
TO-DAY (February 17), a meeting of the London centre of the Institute of Public Cleansing is being held at Westminster City Hall, Charing Cross Road, W.C.2, at 6.30 p.m., when a paper on " Some Notes on the Collection of Trade Refuse " is being read by Mr. B. C. B. Bartlett, deputy cleansing superintendent of Walthamstow Borough Council.
BUILDING BOOM MEANS WORK FOR LORRIES.
ON the grounds that their business is increasing through work being carried out at housing schemes in Aberdeen, a haulage firm were granted an additional vehicle at a sitting of the Northern Scotland Licensing Authority, in Aberdeen, last week, Mr. Henry Riches, the Authority, gave Messrs. John Joss and Sons, Aberdeen, permission to acquire a 3-ton tipper for building-trade purposes in the city and along the route to Dyce Aerodrome.
Railway companies objected to the application, which requested permission to run the vehicle within a radius of 10 miles of the city. Evidence was given that the firm are doing increased work at Tullos, Kaixnhill and Middlefield housing schemes, and at Dyce Aerodrome. The railway companies objected to the "10 miles radius" clause in the application.
Whose Job to Kill Jack Frost?
MUST a road authority sand the highways it controls in frosty weather? It not, is it responsible for damage due to icebound roads? These points will be debated in Perth Sheriff Court on March 14, the date fixed for the hearing of an action by Mr. Charles Alexander, haulier, Old Ford Road, Aberdeen, who is suing Perth and Kinross County Council for £340 14s, lid. Pursuer claims that one of his drivers was driving a lorry loaded with fish at midnight on December 4, 1937, and on an unsanded part of the road the vehicle skidded through a wail. Damage is claimed for the cost of transferring the load, toss of markets and other items.
The council contends it was under no obligation to sand the road and that the defender's servant was materially to blame for the accident.
New Traffic Roundabout is Elevated.
.1-1 A N unusual design of roundabout—
the first of its type to be constructed in this country, is to be brought into use at the junction of Caterham by-pass with Croydon Road, Burntwood Lane, Godstone Road, Succombs Hill and Woldingham Road. Traffic will flow in a clockwise direction around a central island 180 ft. in diameter, on an elevated carriageway 40 ft. in width, Four pedestrian subways from the converging roads will lead under the elevated carriageway into a circus 50 ft. in diameter, thus enabling pedestrians to cross the junction at ground level beneath the stream of vehicular traffic.