Is the Motor Trader Getting a Square Deal From the Maker?
17th February 1939
Page 30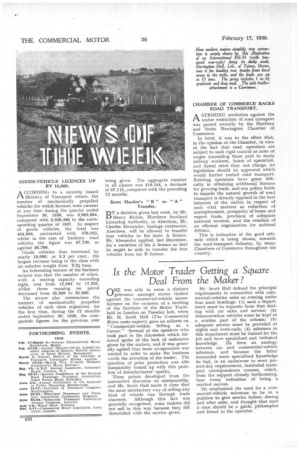 Page 30, 17th February 1939 —
Is the Motor Trader Getting a Square Deal From the Maker?
Close
Keywords :
("NNE was able to sense a distinct
grievance amongst motor traders against the commercial-vehicle manufacturer on the occasion of a meeting of the Institute of the Motor Trade, held in London on Tuesday last, when Mr. H. Scott Hall (The Commercial Motor costs expert) gave an address on " Commercial-vehicle Selling as a Career.— Several of the speakers who took part in the discussion which followed spoke of the lack of assistance given by the makers, and it was generally agreed that more co-operation was needed in order to make the business worth the attention of the trader. The question of price protection was also inseparably bound up with this problem of manufacturers' apathy.
These points developed from the instructive discourse on salesmanship, and Mr. Scott Hall made it clear that the most satisfactory way of selling any kind of vehicle was through trade channels. Although this fact was generally recognized, some makers did not sell in this way because they felt dissatisfied with the service given. Mr. Scott Hall defined the principal requirements in connection with commercial-vehicles sales as coming under four main headings: (1) such a department must be separate from that dealing with car sales and service; (2) demonstration vehicles must be kept as a routine part of the scheme; (3) adequate service must be provided at nights and week-ends; (4) salesmen in this department must be trained for the job and have specialized and technical knowledge. He drew an analogy between car and commercial-vehicle salesmen, and because the latter demanded more specialized knowledge he had, in an endeavour to meet present-day requirements, instituted transport correspondence courses, which, from the support already forthcoming. bear every indication of being a marked success.
He emphasized the need for a commercial-vehicle salesman to be in a position to give service before, during and after sales, and thought that such a man should be a guide, philosopher and friend to the operator.