GOODS-VEHICLE LICENCES UP BY 16,000.
17th February 1939
Page 30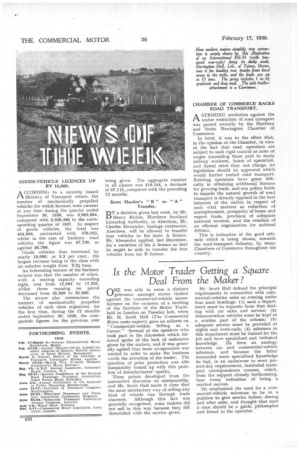 Page 30, 17th February 1939 —
GOODS-VEHICLE LICENCES UP BY 16,000.
Close
A CCORDING to a recently issued PA Ministry of Transport return, the number of mechanically propelled vehicles for which licences were current at any time during the quarter ended September 30, 1938, was 3;093,884, compared with 2,938,485 in the corresponding quarter of 1937. In respect of goods vehicles, the total was 494,866, contrasted with 478,922, whilst in the case of hackney road vehides the figure was 87,730, as against 85,766.
Goods vehicles thus increased by nearly 16,000, or 3.3 per cent., the largest increase being in the class with an unladen weight from 2-24 tons.
An interesting feature of the hackney returns was that the number of oilers, with a seating capacity exceeding eight, rose from 12,994 to 17,322, whilst those running on petrol decreased from 35,860 to 32,960.
The return also summarizes the number of mechanically propelled vehicles of • each class registered, for the first time, during the 12 months ended September 30, 1938, the comparable figures for the previous year being given. The aggregate number in all classes was 419,154, a decrease of 67,115,, compared with the preceding 12 months.
Scots Haulier's " B " to " A " Transfer.
BY a decision given last week, by Mr. Henry Riches, Northern Scotland Licensing Authority, in Aberdeen, Mr. Charles Alexander, haulage contractor, Aberdeen, will be allowed to transfer four vehicles to his main A licence. Mr. Alexander applied, last December, for a variation of his A licence so that he might be able to transfer the four vehicles from his B licence.
CHAMBER OF COMMERCE BACKS ROAD TRANSPORT.
ASTRIKING resolution against the undue restriction of road transport was passed recently by the Hackney
• and Stoke Newington Chamber of Commerce.
In brief, it was to the effect that, in the opinion of the Chamber, in view of the fact that road operators are subject to such rigid control as rates of wages (exceeding those paid to many railway workers), hours of operation, and (later) rates they can charge, no legislation should be approved .which would further curtail road transport. Existing operators have great difficulty in obtaining additional licences for growing trade, and any policy liable to impede the natural growth of road transport is directly opposed to the best interests of the nation in respect of such vital matters as reduction of unemployment, prosperity of home and export trade, provision of adequate national revenue, and the creation of an efficient organization for national defence.
This is indicative of the good attitude which is being shown, towards the road-transport industry, by many Chambers of Commerce throughout the country.