One Hears—
17th February 1939
Page 29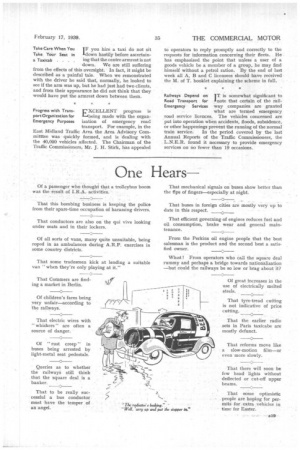 Page 29, 17th February 1939 —
One Hears—
Close
Of a passenger who thought that a trolleybus boom was the result of I.R.A.. activities.
That this bombing business is keeping the police from their spare-time occupation of harassing drivers.
That conductors are also on the qui vive looking under seats and in their lockers.
Of all sorts of vans, many quite unsuitable, being roped in as ambulances during A.R.P. exercises in some country districts.
That some tradesmen kick at lending a suitable van "when they're only playing at it."
That Commers are finding a market in Berlin.
Of children's fares being very unfair—according to the railways.
That electric wires with " whiskers" are often a source of danger.
Of "rust creep" in buses being arrested by light-metal seat pedestals.
Queries as to whether the railways still think that the square deal is a banker.
That to be really successful a bus conductor must have the temper of an angel. That mechanical signals on buses show better than the rips of fingers—especially at night.
That buses in foreign cities are mostly very up to date in this respect.
That efficient governing of engines reduces fuel and oil consumption, brake wear and general maintenance.
From the Perkins oil engine people that the best salesman is the product and the second best a satisfied owner.
Whist ! From operators who call the square deal rummy and perhaps a bridge towards nationalization —but could the railways be so low or brag about it?
Of great increases in the use of electrically melted steels.
That tyre-tread cutting is not indicative of price cutting.
That the earlier radio sets in Paris taxicabs are mostly defunct.
That reforms move like a slow-motion film—or even more slowly.
That there will soon be few head lights without deflected or cut-off upper beams.
That some optimistic people are hoping for permits for extra vehicles in time for Easter.