Passing Comments
17th February 1939
Page 28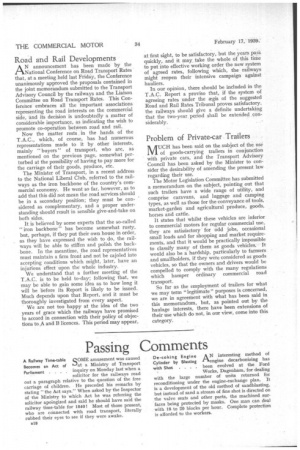 Page 29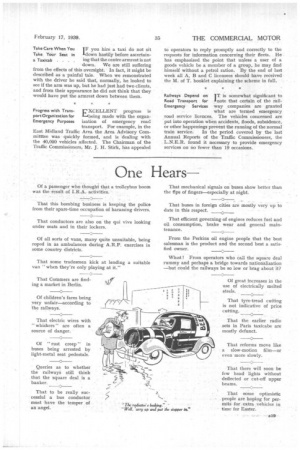 Page 28, 17th February 1939 —
Passing Comments
Close
A Railway Time-table QOME amusement was caused Becomes an Act of lb—rat a Ministry of Transport Parliament . . . inquiry on Monday last when a solicitor for the railways read out a paragraph relative to the question of the free carriage of children. He preceded his remarks by stating "the Act says." When asked by the Inspector of the Ministry to which Act he was referring the solicitor apologized and said he should have said the railway time-table for 1840! Most of those present, who are connected with road transport, literally rubbed their eyes to see if they were awake. 1318
De-coking Engine A N interesting method of Cylinder by Blasting r-lengine decarbonizing has with Shot . . . been evolved at the Ford
Works, Dagenham, for dealing with the large number of units returned for reconditioning under the engine-exchange plan. It is a development of the old method of sandblasting, but instead of sand a stream of fine shot is directed on the valve seats and other parts, the machined surfaces being protected by masks. One man can deal with 18 to 20 blocks per hour. Complete protection is afforded to the workers. Take Care When You I F you hire a taxi do not sit Take Your Seat in down hastily before ascertain a Taxicab . . . ing that the centre armrest is not down. We are still suffering from the effects of this oversight. In fact, it might be described as a painful tale. When we remonstrated with the driver he said that, normally, he looked to see if the arm was up, but he had just had two clients, and from their appearance he did not think that they would have put the armrest down between them.
Progress with TransEXCELLENT progress is port Organization for being made with the organEmergency Purposes ization of emergency road
transport. For example, in the East Midland Traffic Area the Area Advisory Cornmitttee was quickly formed, and is dealing with the 40,000 vehicles affected. The Chairman of the Traffic Commissioners, Mr. J. H. Stirk, has appealed to operators to reply promptly and correctly to the requests for information concerning their fleets. He has emphasized the point that unless a user of a goods vehicle be a member of a group, he may find himself without a petrol ration. By the end of last week all A, B and C licensees should have received the M. of T. booklet explaining the scheme in full.
Railways Depend on IT is somewhat significant to Road Transport for 'note that certain of the railEmergency Services way companies are granted
what are termed emergency road service licences. The vehicles concerned are put into operation when accidents, floods, subsidence, or other happenings prevent the running of the normal train service. In the period covered by the last Annual Reports of the Traffic Commissioners; the L.N.E.R. found it necessary to provide emergency services on no fewer than 19 occasions.