Q I am a long-distance driver, mainly on
17th December 1971
Page 53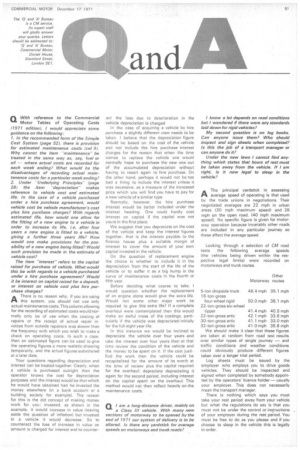 Page 53, 17th December 1971 —
Q I am a long-distance driver, mainly on
Close
a Class 111 vehicle. With many new sections of motorway to be opened by the end of 1971 our system of delivery is to be altered. Is there any yardstick for average speeds on motorways and trunk roads?
I know a lot depends on road conditions but I wondered if there were any standards laid down for rigid vehicles?
My second question is on log books. Can anyone issue them? Who should inspect and sign sheets when completed? Is this the lob of a transport manager or can anyone do it?
Under the new laws I cannot find anything which states that hours of rest must be taken away from the vehicle. If 1 am right, is it now legal to sleep in the vehicle?
A The principal yardstick in assessing
average speed of operating is that used by the trade unions in negotiations. Their negotiated averages are 22 mph in urban areas 130 mph maximum speed) and 28 mph on the open road. 140 mph maximum speed) No specific figure is given for motorway operation because invariably other roads are included in any particular journey so these affect the average speed.
Looking through a selection of CM road tests the following average speeds (the vehicles being driven within the respective legal limits) were recorded on motorways and trunk routes Other Motorway routes 6-ton dropside truck 46.4 mph 35.1 mph 16ton-gross four-wheel rig id 50.0 mph 38.1 mph 22-ton-gross six-wheel tipper 41.4 mph 40.5 mph 22-ton-gross artic 42.1 mph 33_6 mph 30-ton-gross artic 41.1 mph 33.0 mph 32-ton-gross artic 41.0 mph 35.8 mph We should make it clear that these figures are taken at random from road test results over similar types of single journey — and traffic conditions and weather conditions could obviously produce different figures taken over a longer trial period.
Log sheets must be issued by the employer who employs you to drive goods vehicles. They should be inspected and signed when completed by somebody appointed by the operators' licence holder — usually your employer. This does not necessarily mean the transport manager.
There is nothing which says you must take your rest period away from your vehicle but what the regulations do say is that you must not be under the control or instructions of your employer during the rest period. You must be free to do as you please and if you choose to sleep in the vehicle this is legally in order.