/ TALKING
17th December 1971
Page 51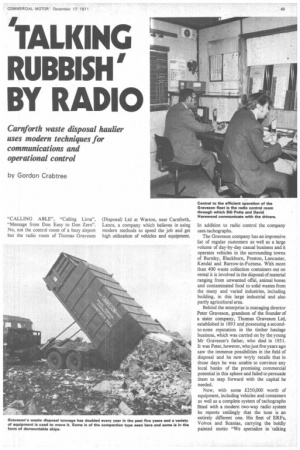 Page 52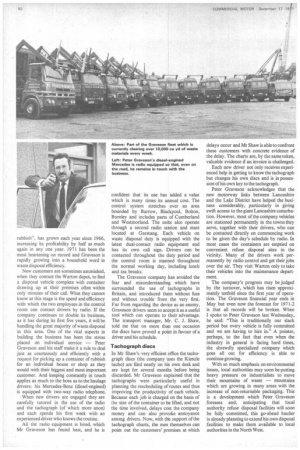 Page 51, 17th December 1971 —
/ TALKING
Close
RUBBISH' BY RADIO
Carnforth waste disposal haulier uses modern techniques for communications and operational control
by Gordon Crabtree -CALLING ABLE", "Calling Lima", "Message from Don Easy to Don Zero". No, not the control room of a busy airport but the radio room of Thomas Graveson
(Disposal) Ltd at Warton, near Carnforth, Lancs, a company which believes in using modern methods to speed the job and get high utilization of vehicles and equipment. In addition to radio control the company uses tachographs.
The Graveson company has an impressive list of regular customers as well as a large volume of day-by-day casual business and it operates vehicles in the surrounding towns of Burnley, Blackburn, Preston, Lancaster, Kendal and Barrow-in-Fumess. With more than 400 waste collection containers out on rental it is involved in the disposal of material ranging from unwanted offal, animal bones and contaminated food to solid wastes from the many and varied industries, including building, in this large industrial and also partly agricultural area.
Behind the enterprise is managing director Peter Graveson, grandson of the founder of a sister company, Thomas Graveson Ltd, established in 1893 and possessing a secondto-none reputation in the timber haulage business, which was carried on by the young Mr Graveson's father, who died in 1951. It was Peter, however, who just five years ago saw the immense possibilities in the field of disposal and he now wryly recalls that in those days he was unable to convince any local banks of the promising commercial potential in this sphere and failed to persuade them to step forward with the capital he needed.
Now, with some £250,000 worth of equipment, including vehicles and containers as well as a complete system of tachographs fitted with a modern two-way radio system he reports smilingly that the tune is an entirely different one. His fleet of ERFs, Volvos and Scanias, carrying the boldly painted motto "We specialize in talking rubbish", has grown each year since 1966, increasing its profitability by half as much again in any one year. 1971 has been the most heartening on record and Graveson is rapidly growing into a household word in waste disposal efficiency.
New customers are sometimes astonished, when they contact the Warton depot, to find a disposal vehicle complete with container drawing up at their premises often within only minutes of their call. What they cannot know at this stage is the speed and efficiency with which the two employees in the control room can contact drivers by radio. If the company continues to double its business, as it has during its first five years, it will be handling the great majority of waste disposal in this area. One of the vital aspects in building the business has been the stress placed on individual service — Peter Graveson and his staff make it a rule to deal just as courteously and efficiently with a request for picking up a container of rubbish for an individual house or shop as they would with their biggest and most important customer. And keeping constantly in touch applies as much to the boss as to the haulage drivers: his Mercedes-Benz (diesel-engined) is equipped with two-way radio telephone.
When new drivers are engaged they are carefully tutored in the use of the radio and the tachograph (of which more anon) and each spends his first week with an experienced driver who knows the routine.
All the radio equipment is hired, which Mr Graveson has found best, and he is confident that its use has added a value which is many times its annual cost. The control system stretches over an area bounded by Barrow, Blackpool, Bolton, Burnley and includes parts of Cumberland and Westmorland. The units also operate through a second radio station and mast located at Garstang. Each vehicle on waste disposal duty is equipped with the latest dual-contact radio equipment and has its own call sign. Drivers can be contacted throughout the duty period and the control room is manned throughout the normal working day, including lunch and tea breaks.
The Graveson company has avoided the fear and misunderstanding which have surrounded the use of tachographs in Britain, and introduced them without fuss and without trouble from the very first. Far from regarding the device as an enemy, Graveson drivers seem to accept it as a useful tool which can operate to their advantage. The transport manager, Mr. C. J. Shaw, told me that on more than one occasion the discs have proved a point in favour of a driver and his schedule.
Tachograph discs
In Mr Shaw's very efficient office the tachograph discs (the company uses the Kienzle tacho) are filed neatly on his own desk and are kept for several months before being discarded. Mr Graveson explained that the tachographs were particularly useful in planning the rescheduling of routes and thus improving the productivity of each vehicle. Because each job is charged on the basis of the size of the container to be lifted, and not the time involved, delays cost the company money and can also provoke annoyance among drivers. Now, with the support of the tachograph charts, the men themselves can point out the customers' premises at which delays occur and Mr Shaw is able to confront these customers with concrete evidence of the delay. The charts are, by the same token, valuable evidence if an invoice is challenged.
Each new driver not only receives experienced help in getting to know the tachograph but changes his own discs and is in possession of his own key to the tachograph.
Peter Graveson acknowledges that the new motorway links between Lancashire and the Lake District have helped the business considerably, particularly in giving swift access to the giant Lancashire conurbation. However, most of the company vehicles are stationed permanently in the towns they serve, together with their drivers, who can be contacted directly on commencing work to be given the day's schedule by radio. In most cases the containers are emptied on convenient refuse disposal sites in the vicinity. Many of the drivers work permanently by radio control and get their jobs over the air. They visit Warton only to take their vehicles into the maintenance department.
The company's progress may be judged by the turnover, which has risen approximately tenfold since the first year of operation. The Graveson financial year ends in May but even now the forecast for 1971-2 is that all records will be broken. When I spoke to Peter Graveson last Wednesday, he said: "This is traditionally our slack period but every vehicle is fully committed and we are having to hire in." A pointer, perhaps, to the fact that even when the industry in general is facing hard times, the shrewdly specialized company which goes all out for efficiency is able to continue growing.
With so much emphasis on environmental issues, local authorities may soon be putting heavy pressure on industrialists to move their mountains of waste — mountains which are growing in many areas with the increase of non-returnable packaging. This is a development which Peter Graveson foresees and, anticipating that local authority refuse disposal facilities will soon be fully committed, this go-ahead haulier is already planning to extend his own disposal facilities to make them available to local authorities in the North West.