cropper's column
17th December 1971
Page 50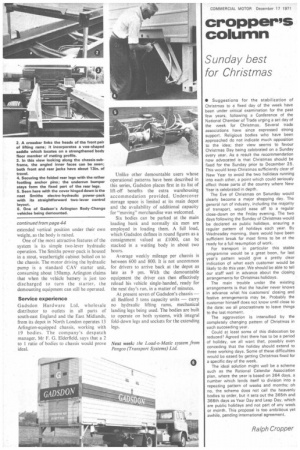 Page 50, 17th December 1971 —
cropper's column
Close
Sunday best for Christmas
• Suggestions for the stabilization of Christmas to a fixed day of the week have been under critical examination for the past few years, following a Conference of the National Chamber of Trade urging a set day of the week for Christmas. Several trade associations have since expressed strong support. Religious bodies who have been approached do not indicate much opposition to the idea; their view seems to favour Christmas Day being celebrated on a Sunday every year. As a result the recommendation now advocated is that Christmas should be fixed for the Sunday prior to December 25. This would keep Christmas sufficiently clear of New Year to avoid the two holidays running into each other, a point which could seriously affect those parts of the country where New Year is celebrated in depth.
The Eve of Christmas on Saturday would clearly become a major shopping day. The general run of industry, including the majority of transport, would ease off to a regular close-down on the Friday evening. The two days following the Sunday of Christmas would be declared as public holidays, ensuring a regular pattern of holidays each year. By Wednesday morning, there would have been sufficient break for most firms to be at the ready for a full resumption of work.
For transport in particular this stable programme would be a great boon, for last year's pattern would give a pretty clear indication of what each customer would be likely to do this year. We should be able to tell our staff well in advance about the closing arrangements for Christmas holidays.
The main trouble under the existing arrangements is that the haulier never knows in advance what his customers closing and festive arrangements may be. Probably the customer himself does not know until close to the date: we all procrastinate to leave things to the last moment.
The aggravation is intensified by the completely changing pattern of Christmas in each succeeding year.
Could at least some of this dislocation be reduced? Agreed that there has to be a period of holiday, we all want that, possibly even conceding that the holiday should extend to three working days. Some of these difficulties would be eased by getting Christmas fixed for a specific day of the week.
The ideal solution might well be a scheme such as the Rational Calendar Association plan, where the year is based on 364 days, a number which lends itself to division into a repeating pattern of weeks and months; oh no, the scheme does not call the heavenly bodies to order, but it sets out the 365th and 366th days as Year Day and Leap Day, which are public holidays and not part of any week or month. This proposal is too ambitious yet awhile, pending international agreement.