Thief proof fire-door risks
17th December 1971
Page 39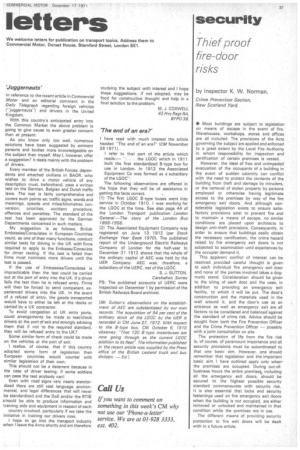 Page 39, 17th December 1971 —
Thief proof fire-door risks
Close
Keywords :
Safety
,
Fire Protection
,
Occupational Safety And Health
,
Fire Prevention
,
Fire Safety
,
Emergency Exit
,
Occupancy
,
Door
,
Emergency Management
,
Emergency
,
Fire Alarm System
,
Disaster / Accident
by Inspector K. W. Norman,
Crime Prevention Section, New Scotland Yard.
• Most buildings are subject to legislation on means of escape in the event of fire. Warehouses. workshops, stores and offices are all included. The provisions of the Acts governing the subject are applied and enforced to a great extent by the Local Fire Authority in whom responsibility for inspection and certification of certain premises is vested.
However, the ideal of free and unimpeded evacuation of the occupants of a building in the event of sudden calamity can conflict with the need to protect the contents of the building from theft and damage by intruders, or the removal of stolen property by persons employed or otherwise having legitimate access to the premises by way of the fire emergency exit doors. And although considerable legislation exists to ensure satisfactory provisions exist to prevent fire and to maintain a means of escape, no similar conditions are placed upon architects to design anti-theft provisions. Consequently, in order to ensure that buildings easily obtain the necessary certification, the crime hazard raised by fire emergency exit doors is not subjected to examination until experiences by the occupier demand it.
This apparent conflict of interest can be resolved provided careful thought is given to each individual fire emergency exit door and none of the parties involved takes a dogmatic stand. Consideration should be given to the siting of each door and the uses, in addition to providing an emergency exit facility, to which it will be put. The door's construction and the materials used in the wall around it. and the door's use as an entrance as well as emergency exit are all factors to be considered and balanced against the standard of crime risk. Advice should be sought from both the Fire Prevention Officer and the Crime Prevention Officer — possibly with a joint consultation on site.
The protection of life from the fire risk is, of course, of paramount importance and all security provisions must be subordinated to that one basic aim. However, one should remember that legislation and the important basic aim I have outlined apply only when' the premises are occupied. During out-ofbusiness hours the entire premise, including all the emergency exit doors, should be secured to the highest possible security standard commensurate with security risk. It is also essential that locks and security fastenings used on fire emergency exit doors when the building is not occupied, are either removed or unlocked and maintained in that condition while the premises are in use.
The different means of providing security protection to fire exit doors will be dealt with in a future article.