meet
17th December 1971
Page 34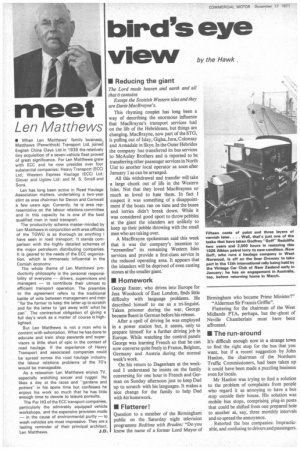 Page 34, 17th December 1971 —
meet
Close
Len Matthews
• When Len Matthews family business, Matthews (Penvvithick) Transport Ltd, joined English China Clays Ltd in 1938 the relatively tiny acquisition of a seven-vehicle fleet proved of great significance. For Len Matthews grew with ECC and he now presides over four substantial companies: Heavy Transport IECCI Ltd; Western Express Haulage (ECG} Ltd: Glover and Uglow Ltd: and M. S. Small and Sons.
Len has long been active in Road Haulage Association matters, undertaking a two-year stint as area chairman for Devon and Cornwall a few years ago. Currently, he is area representative on the labour relations committee and in this capacity he is one of the best qualified men in road transport.
The productivity scheme master-minded by Len Matthews in conjunction with area officials of the TGWU is as thorough as anything I have seen in road transport. It stands comparison with the highly detailed schemes of the major petroleum distributing companies. It is geared to the needs of the ECC organization, which is immensely influential in the Cornish economy.
The whole theme of Len Matthews' productivity philosophy is the personal responsibility of everyone — drivers, supervisors and managers — to contribute their utmost to efficient transport operation. The preamble to the agreement refers to the traditional battle of wits between management and men "for the former to keep the latter up to scratch and for the latter to 'get away with' what he can". The contractual obligation of giving a full day's work as a matter of course is highlighted.
But Len Matthews is not a man who is content with exhortation. What he has done to educate and train shop stewards and supervisors is little short of epic in the context of road haulage. If the experience of Heavy Transport and associated companies could be spread across the road haulage industry the labour relations problems of the 70's would be manageable.
As a relaxation Len Matthews enjoys TV, especially watching soccer and rugger. He likes a day at the races and "gardens and potters" in his spare time but confesses he enjoys his work so much that he has little enough time to devote to leisure pursuits.
The Par HQ of the ECC transport companies, particularly the admirably equipped vehicle workshops, and the expensive provision made — in the cause of environmental purity — to wash vehicles are most impressive. They are a lasting reminder of their principal architect, Len Matthews. J.D.