bird's eye
17th December 1971
Page 34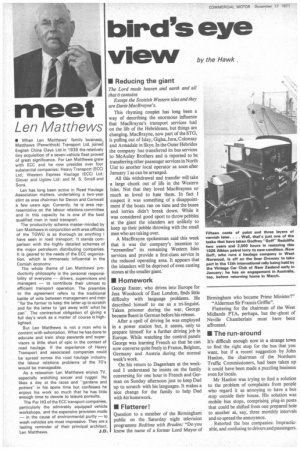 Page 34, 17th December 1971 —
bird's eye
Close
view by the Hawk • Reducing the giant
The Lord made heaven and earth and all that it contains Except the Scottish Western isles and they are Davie MacB rayne's.
This rhyming couplet has long been a way of describing the enormous influence that MacBrayne's transport services had on the life of the Hebrideans, but things are changing. MacBrayne, now part of the STG, is pulling out of Islay, Gigha, Jura, Colonsay and Armadale in Skye. In the Outer Hebrides the company has transferred its bus services to McAulay Brothers and is reported to be transferring other passenger services in North Uist to another local operator as soon after January 1 as can be arranged.
All this withdrawal and transfer will take a large chunk out of life in the Western Isles. Not that they loved MacBraynes so much as loved to hate them. In fact I suspect it was something of a disappointment if the boats ran on time and the buses and lorries didn't break down. While it was considered good sport to throw pebbles at the giant the islanders are unlikely to keep up their pebble throwing with the small men who are taking over.
A MacBrayne spokesman said this week that it was the company's intention to "streamline" its remaining Western Isles services and provide a first-class service in the reduced operating area. It appears that the islanders will be deprived of even casting stones at the smaller giant.
• Homework
George Easter, who drives into Europe for Jess Woodcock of East London, finds little difficulty with language problems. He described himself to me as a tri-linguist. Taken prisoner during the war, George became fluent in German before his release.
After a spell of driving he was employed in a power station but, it seems, only to prepare himself for a further driving job in Europe. While watching the control panels George was learning French so that he can now converse quite freely in France, Belgium, Germany and Austria during the normal week's work.
On his return to Dagenham at the weekend I understand he insists on the family conversing for one hour in French and Ger man on Sunday afternoon just to keep Dad up to scratch with his languages. It makes a nice change for the family to help Dad with his homework.
• Flatterer!
Question to a member of the Birmingham public on the Saturday night television programme Bedtime with Braden: "Do you know the name of a former Lord Mayor of Birmingham who became Prime Minister?" *Alderman Sir Francis Griffin".
Flattering for the chairman of the West Midlands PTA, perhaps, but the 'ghost of Neville Chamberlain must have been affronted.
• The run-around
It's difficult enough now in a strange town to find the right stop for the bus that you want, but if a recent suggestion by John Hanlon, the chairman of the Northern Traffic Commissioners, had been taken up it could have been made a puzzling business even for locals.
Mr Hanlon was trying to find a solution to the problem of complaints from people who regard it as annoying to have a bus stop outside their house. His solution was mobile bus stops, comprising plug-in posts that could be shifted from one prepared hole to another at, say, three monthly intervals and so spread the annoyance.
Retorted the bus companies: Impracticable, and confusing to drivers and passengers.