Water induction as an anti-pollutant
17th December 1971
Page 27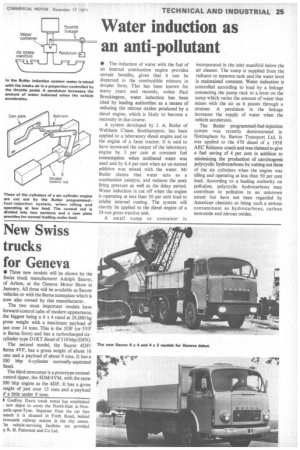 Page 27, 17th December 1971 —
Water induction as an anti-pollutant
Close
• The induction of water with the fuel of an internal combustion engine provides certain benefits, given that it can be dispersed in the combustible mixture in droplet form. This has been known for many years and recently, writes Paul Brockington, water induction has been cited by leading authorities as a means of reducing the nitrous oxides produced by a diesel engine, which is likely to become a necessity in due course.
A system developed by J. A. Butler of Waltham Chase, Southampton, has been applied to a laboratory diesel engine and to the engine of a farm tractor. It is said to have increased the output of the laboratory engine by 3 per cent at constant fuel consumption when undiluted water was used and by 6.4 per cent when an un-named additive was mixed with the water. Mr Butler claims that water acts as a combustion catalyst, and reduces the peak firing pressure as well as the delay period. Water induction is cut off when the engine is operating at less than 50 per cent load to inhibit internal rusting. The system will shortly be applied to the diesel engine of a 24-ton gross tractive unit.
A small sump or container is incorporated in the inlet manifold below the air cleaner. The sump is supplied from the radiator or separate tank and the water level is maintained constant. Water induction is controlled according to load by a linkage connecting the pump rack to a lever on the sump which varies the amount of water that mixes with the air as it passes through a strainer. A pendulum in the linkage increases the supply of water when the vehicle accelerates.
The Butler programmed-fuel-injection system was recently demonstrated in Nottingham by Barton Transport Ltd. It was applied to the 470 diesel of a 1958 AEC Reliance coach and was claimed to give a fuel saving of 4 per cent in addition to minimizing the production of carcinogenic polycyclic hydrocarbons by cutting out three of the six cylinders when the engine was idling and operating at less than 50 per cent load. According to a leading authority on pollution, polycyclic hydrocarbons may contribute to pollution to an unknown extent but have not been regarded by American chemists as being such a serious contaminant as hydrocarbons, carbon monoxide and nitrous oxides.