Tyre expert explains radials to bench
17th December 1971
Page 26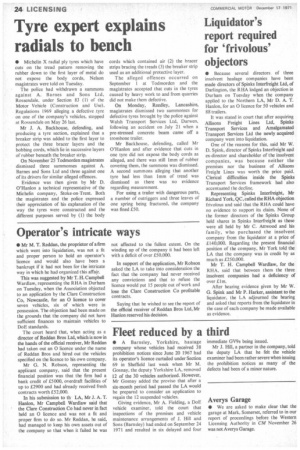 Page 26, 17th December 1971 —
Tyre expert explains radials to bench
Close
• Michelin X radial ply tyres which have cuts on the tread pattern removing the rubber down to the first layer of metal do not expose the body cords, Nelson magistrates were told on Tuesday.
The police had withdrawn a summons against A. Barnes and Sons Ltd,
Rossendale, under Section 83 (I) of the Motor Vehicle (Construction and Use). Regulations 1969 alleging a defective tyre on one of the company's vehicles, stopped at Rossendale on May 26 last.
Mr J. A. Backhouse, defending, and producing a tyre section, explained that a breaker strip was added to the first layer to protect the three bracer layers and the bobbing cords, which lie in successive layers of rubber beneath the breaker strip.
On November 25 Todmorden magistrates dismissed three summonses against A. Barnes and Sons Ltd and three against one of its drivers for similar alleged offences.
Evidence was then given by Mr D. O'Hanlon a technical representative of the Michelin company. Stoke-on-Trent. Both the magistrates and the police expressed their appreciation of his explanation of the way the tyres were constructed and the different purposes served by (1) the body cords which contained air (2) the bracer strips bracing the treads (3) the breaker strip used as an additional protective layer.
The alleged offences occurred on September I at Todmorden and the magistrates accepted that cuts in the tyres caused by heavy work to and from quarries did not make them defective.
On Monday, Reedley, Lancashire, magistrates dismissed two summonses for defective tyres brought by the police against Walsh Transport Services Ltd, Darwen, following an accident on July 21 when a pre-stressed concrete beam came off a trombone trailer.
Mr Backhouse. defending, called Mr O'Hanlon and after evidence that cuts in one tyre did not expose the body cords as alleged, and there was still lmm of rubber covering them, the summons was dismissed. A second summons alleging that another tyre had less than 1 mm of tread was dismissed as there was no evidence regarding measurement.
For using a trailer with dangerous parts, a number of outriggers and three leaves of one spring being fractured, the company was fined £50.