Operator's intricate ways
17th December 1971
Page 26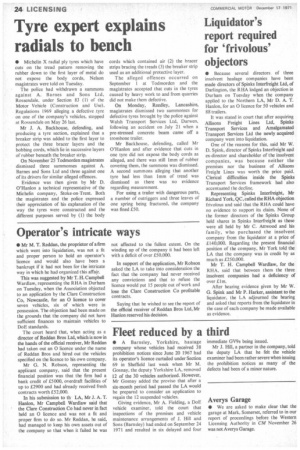 Page 26, 17th December 1971 —
Operator's intricate ways
Close
• Mr M. T. Reddan, the proprietor of a firm which went into liquidation, was not a fit and proper person to hold an operator's licence and would also have been a bankrupt if it had not been for the intricate way in which he had organized this affair.
This was suggested by Mr T. H. Campbell Wardlaw, representing the RHA in Durham on Tuesday. when the Association objected to an application by the Clare Construction Co, Newcastle, for an 0 licence to cover seven vehicles, six of which were in possession. The objection had been made on the grounds that the company did not have sufficient finances to maintain vehicles to DoE standards.
The court heard that, when acting as a director of Reddan Bros Ltd, which is now in the hands of the official receiver, Mr Reddan had taken out an 0 licence under the name of Reddan Bros and hired out the vehicles specified on the licence to his own company.
Mr G. N. Robson, representing the applicant company, said that the present financial position was that the firm had a bank credit of £5000, overdraft facilities of up to £2900 and had already received fresh contracts worth £52.000.
In his submission to th LA, Mr J. A. T. Hanlon, Mr Campbell Wardlaw said that the Clare Construction Co had never in fact held an 0 licence and was not a fit and proper firm to do so. Mr Reddan, he said, had managed to keep his own assets out of the company so that when it failed he was
not affected to the fullest extent. On the winding up of the company it had been left with a deficit of over £50.000.
In support of the application, Mr Robson asked the LA to take into consideration the fact that the company had never received any convictions and that to refuse the licence would put 15 people out of work and lose the Clare Construction Co profitable contracts.
Saying that he wished to see the report of the official receiver of Reddan Bros Ltd, Mr Hanlon reserved his decision.