Liquidator's report required for 'frivolous' objectors
17th December 1971
Page 26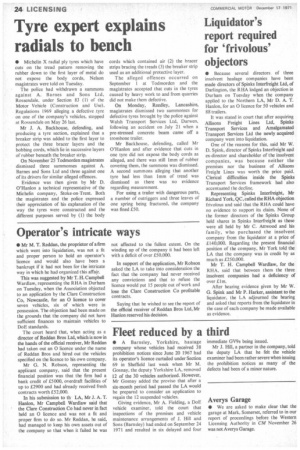 Page 26, 17th December 1971 —
Liquidator's report required for 'frivolous' objectors
Close
• Because several directors of three insolvent haulage companies have been made directors of Spinks Interfreight Ltd, of Darlington, the RHA lodged an objection in Durham on Tuesday when the company applied to the Northern LA, Mr D. A. T. Hanlon, for an 0 licence for 50 vehicles and 88 trailers.
It was stated in court that after acquiring Allisons Freight Lines Ltd, Spinks Transport Services and Amalgamated Transport Services Ltd the newly acquired company went into liquidation.
One of the reasons for this, said Mr W. D. Spink, director of Spinks Interfreight and ex-director and shareholder of the insolvent companies, was because neither the premises nor the business of Allisons Freight Lines was worth the price paid. Clerical difficulties inside the Spinks Transport Services framework had also accentuated the decline.
Representing Spinks Interfreight, Mr Richard York, QC, called the RHA objection frivolous and said that the RHA could have no evidence to support its claim. None of the former directors of the Spinks Group held shares in Spinks lnterfreight as these were all held by Mr C. Attwood and his family. who purchased the insolvent company from the liquidator at a price of £140,000. Regarding the present financial position of the company, Mr York told the LA that the company was in credit by as much as £250,000.
Mr T. H. Campbell Wardlaw, for the RHA. said that between them the three insolvent companies had a deficiency of over Lim.
After hearing evidence given by Mr W. G. Spink and Mr P. Harker, assistant to the liquidator, the LA adjourned the hearing and asked that reports from the liquidator in the case of each company be made available as evidence.