Fleet reduced by a third
17th December 1971
Page 26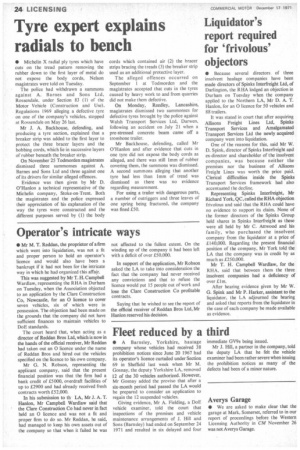 Page 26, 17th December 1971 —
Fleet reduced by a third
Close
• A Barnsley, Yorkshire, haulage company whose vehicles had received 38 prohibition notices since June 20 1967 had its operator's licence curtailed under Section 69 in Sheffield last week when Mr M. Gosnay, the deputy Yorkshire LA. removed 12 of the 30 vehicles authorized. However, Mr Gosnay added the proviso that after a six-month period had passed the LA would be prepared to consider an application to regain the 12 suspended vehicles.
Giving evidence, Mr A. Fielding, a DoE vehicle examiner, told the court that inspections of the premises and vehicle maintenance arrangements of J. Hill and Sons (Barnsley) had ended on September 24 1971 and resulted in six delayed and four immediate GV9s being issued.
Mr J. Hill, a partner in the company, told the deputy LA that he felt the vehicle examiner had been rather severe when issuing the prohibition notices as many of the defects had been of a minor nature.